COAL-GAS PROGRESS.
4th April 1918
Page 20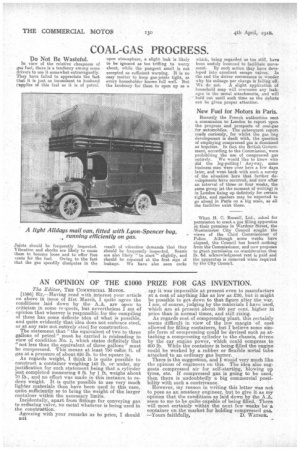 Page 20, 4th April 1918 —
COAL-GAS PROGRESS.
Close
Do Not Be Wasteful.
In view of the relative cheapness of gas fuel, there is a tendency among some drivers to use it somewhat extravagantly. They have failed to appreciate the fact that it is just as incumbent to husband !ppplies of this fuel as it is of petrol.
Joints should be frequently inspected. Vibration and shocks are likely to cause them to become loose and to offer free vents for the fuel. Owing to the fact that the gas speedily dissipates in tho open atmosphere, a slight leak is likely to be ignored as too trifling to worry about, while the pungent smell is not accepted as sufficient warning. It is no easy matter to keep gas-joints tight, as every householder knows full well. But the tendency for them to open up as a
result of vibration demands that they should be frequently inspected. Seams are also likely "to start" slightly, and should be repaired at the first sign of leakage. We have also seen cocks
which, being regarded as too stiff, have been unduly loosened to facilitate movement, By such action they have developed into excellent escape valves. In the end the driver commences to wonder why his mileage per charge is falling off.
We do not. A slight application of household soap will overcome any leakages in the metal attachmeritfs, and will hold out until such time as the clefects can be given proper attention.
New Fuel for Motors in Paris.
Recently the French authorities sent a commission to London to report upon the progress and prospects of coal-gas for automobiles. The subsequent report reads curiously, for whilst the gas bag development is dealt with, the question of employing compressed gas is dismissed as hopeless. In fact the British Government, according to the Commission, were prohibiting the use of compressed gas entirely. We would like to know who did the leg-pulling Anyway, some business men were over here a few days later, and went back with such a survey of the situation here that further developments'have occurred, arictnow after an interval of three or four weeks, the same group (at the moment of writing) is in London fixing up definitely for certain rights, and matters may be expected to go ahead in Paris on a big scale, as all the facilities exist there.
When H. C. Russell, Ltd., asked for permission to erect a gas filling apparatus at their premises in Wardour Street, the Westminster City Council sought the views of tha Chief Commissioner of Police. Although sonic weeks have elapsed, the Council has, heard nothing from the Commissioner, and now proposes to grant permission on consideration that 2s. ficl. acknowledgment rent is paid and the apparatus is removed when required by the City Council,