SALESMEN WANTED.
4th April 1918
Page 15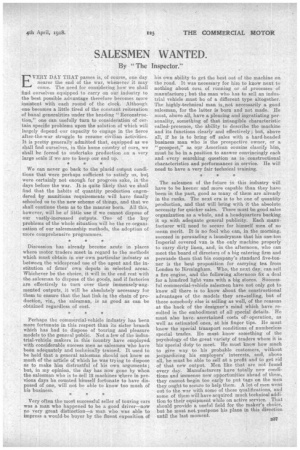 Page 15, 4th April 1918 —
SALESMEN WANTED.
Close
By "The Inspector."
EVERY DAY THAT passes is, of course, one day nearer the end of the war, whenever it may come. The need for considering how we shall find ourselves equipped to carry on our industry to the best possible advantage therefore becomes more insistent with each round of the clock. Althougi one becomes a little tired of the constant reiteration of banal generalities under the heading " Reconstruction," one can usefully turn to consideration of certain specific problems upon the solution of which will largely depend our capacity to engage in the fierce after-the-war struggle to resume civilian activities. It is pretty generally admitted that, equipped as we shall find ourselves, in this home country of ours, we shall be forced to undertake production on a very
large scale if we are to keep our end up. .
We can never go beck to the placid output condi
tions that were perhaps sufficient to satisfy us, but, were certainly not enough for progress sake, in ,the days before the war. It is quite likely that we shall find that the habits of quantity production engendered by munitions requirements will have finally schooled us to the new scheme of things, and that we shall continue them as to the manner born. All this, however, will be of little use if we cannot dispose of our vastly-increased outputs. One of the key problems of the. whole situation will be the re-organization of our salesmanship methods, the adoption of more comprehensive programmes.
Discussion has already become acute in places where motor traders meet in regard to the methods which must obtain in our own particular industry as between the widespread use of the agent and the institution of firms' own depots in selected areas. Whichever be the choice, it will in the end rest with the salesman to dispose of the goods, and if factories are effectively to turn over their immensely-augmented outputs, it will be absolutely necessary for them to ensure that the last link in the chain of pro duction, viz., the salesman, iS as good as can be obtained regardless of cost.
Perhaps the commercial-vehicle industry has been more fortunate in this respect than its sister branch which has had to dispose of touring and pleasure models to the general public. Not a few of the industrial-vehicle makers in this eountry have employed with considerable success men as salesmen who have been adequately and technically trained. It used to be held that a general salesman should not know so much of the article of which he was trying to dispose as to make him distrustful of his own arguments ;
• but, in my opinion, the day has now gone by when the salesman who is to sell 12 machines where in previous days he counted himself fortunate to have disposed of one, will not be able to know too much of
his business.
Very often the most successful seller of touring ears was a man who happened to be a good driver—now • no very great distinction—a man who was able to impress a would-be buyer by the fluent exposition of
his own ability to get the best out of the machine on the road. It was necessary for him to know next to nothing about cos.:, of running or of processes of manufacture ; but the man who has to sell an industrial vehicle must be of a different type altogether. The highly-technical man is,.not necessarily a good salesman, for the latter is born and not made. He must, above all, have a pleasing and ingratiating personality, something of that intangible characteristic called presence, the ability to describe the machine and its functions clearly and effectively; but, above all, if he is to bring off sales with a hard-headed business man who is the prospective owner, or a "prospect," as our American cousins classify him, must he be in a position to answer convincingly each and every searching question as to constructional characteristics and performances in service. Ile will need to have a very fair technical training.
The salesmen of the future in this industry will have to be keener and more capable than they have been in the past, good as many of them are already in the ranks. The next era is to be one of quantity production, and that will bring with it the absolute necessity for quicker sales. There must be good sales organization as a whole, and a headquarters backing it up with adequate general publicity. Each manufacturer will need to secure for himself men of no mean merit. It is no fool who can, in the morning, succeed in persuading a laundryman that his one-ton Imperial covered van is the only machine properly to carry dirty linen, and, in the afternoon, who can meet the board of directors of a big catering firm and persuade them that his company's standard five-tonner is the best proposition for carrying tea from London to Birmingham. Who, the next day, can sell a fire engine, and the following afternoon fix a deal for a hundred light vans with a big stores. Successful commercial-vehicle salesmen have not only got to know all there is to know about the constructional advantages of the models they are-selling, but of those somebody else is selling as well, of the reasons at the back of the designer's mind which have resulted in the embodiment of all special details. Ho must also haves ascertained costs of .operation, as well as estimated ones, at his finger tips. He must know the special transport conditions of numberless special trades. He must know something of the psychology of the great variety of traders whom it is his special duty to meet. He must know how much to give way to his probable customers, without jeopardizing his employers' interests, and, above all, he must be able to sell at a profit and to get rid of that new output. Mee. like that are not found every day. Manufacturers have totally new conditions arid immense new opportunities ahead of them, they cannot begin too early to put tags on the men they ought to secure to help them. A lot of men went out to the war with some of these qualifications, and some of them will have acquired much technical addition to their equipment while on active service. That should provide a useful field for the maker's choice, but he must not postpone his plans in this direction
until the last moment.