THE POEHL UNIVERSAL AGRIMOTOR TRACTOR.
4th April 1912
Page 17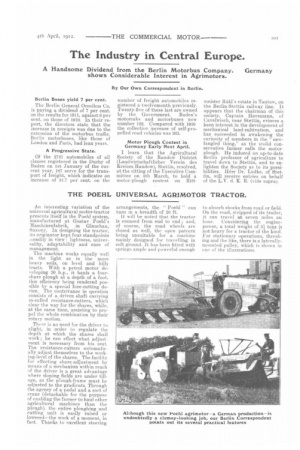 Page 17, 4th April 1912 —
THE POEHL UNIVERSAL AGRIMOTOR TRACTOR.
Close
An interesting variation of the universal agricultural motor-tractor presents itself in the Poehl system, manufactured at Gustav Poehl's Maschinenfabrik, in Glauchau, Saxony. In designing the tractor, its originator kept four standpoints ,Leadily in view : lightness, universality, adaptability and ease of management.
The machine works equally well in the light as in the more heavy soils, on level and hilly tracts. With a petrol motor developing 30 h.p., it. hauls a fourshare plough at a depth of a foot, this efficiency being rendered possible by a special fore-cutting device. The contrivance in question consists of a driven shaft carrying so-called resistance-cutters, which clear the way for the shares, while, at the same time, assisting to propel the whole combination by their rotary motion.
There is no need for the driver alight, in order to regulate the depth at which the shares shall work; he can effect what adjust. ment is necessary from his seat. The resistance-cutters automatically adjust themselves to the working-level of the shares. The facility for effecting share-adjustment by means of a mechanism within reach of the driver is a great advantage where sloping fields are under tillage, as the plough-frame must be adjusted to the gradients. Through the agency of a pedal and a sort of crane (detachable for the purpose of enabling the farmer to haul other agricultural machines than the plough), the entire ploughing and cutting unit is easily raised or lowered—the work of a moment, in fact. Thanks to excellent steering arrangements, the " Poehl " can turn in a breadth of 20 ft.
It will be noted that the tractor is encased from end to end ; and, of course, the road wheels are closed as well, the open pattern being unsuitable for a machine mainly designed for travelling in soft ground. It has been fitted with springs ample and powerful enough
to absorb shocks from road or field. On the road, stripped of its trailer, it can travel ait seven miles an hour. Considering the enginepower, a total weight. of 3} tons is not heavy for a tractor of the kind. For stationary operations, threshing and he like, there is a laterallymounted pulley, which is shown in one of the illustrations.