The Industry in Central Europe.
4th April 1912
Page 17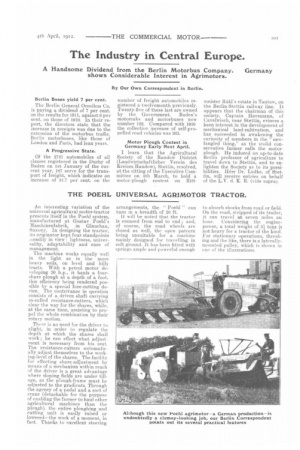 Page 17, 4th April 1912 —
The Industry in Central Europe.
Close
By Our Own Correspondent in Berlin.
Berlin Buses yield 7 per cent.
The Berlin General Omnibus Co. is paying a dividend of 7 per cent. on the results for 1911, against 6 per cent,, on those of 1910. In their report, the directors state that the increase in receipts was due to the extension of the motorbus traffic. Berlin motorbuses, like those of London and Paris, had lean years.
A Progressive State.
Of the 2741 automobiles of all classes registered in the Duchy of Baden on 1st January of the current year, 187 serve for the transport of freight, which indicates an increase of 31.7 per cent, on the number of freight automobiles registered a-twelvemonth previously. Twenty-five of these last are owned by the Government. Baden's motorcabs and motorbuses now number 122. Compared with 1910 the collective increase of self-propelled road vehicles was 363.
Motor Plough Contest in Germany Early Next April.
I learn that the Agricultural Society of the Randow District (Landwirtschaftlicher Verein des Kreises Handow), Stettin, resolved, at the sitting of the Executive Committee on 5th March, to hold a motor-plough contest. on Ritt
meister Itiihrs estate in Tantow, on the Berlin-Stettin railway line. It appears that the chairman of this society, Captain Havemann, of Oavelwisch, near Stettin, evinces a keen interest in the development of mechanical land-cultivation, and has succeeded in awakening the curiosity of members in the "newfangled thing," as the stolid conservative farmer calls the motorplough. He induced an up-to-date Berlin professor of agriculture to travel down to Stettin, and to enlighten the Society as to its possibilities. Herr Dr. Liidke, of Stettin, will receive entries on behalf of the L.V. d. K. R. (vide supra).