Goods Transport
4th April 1912
Page 12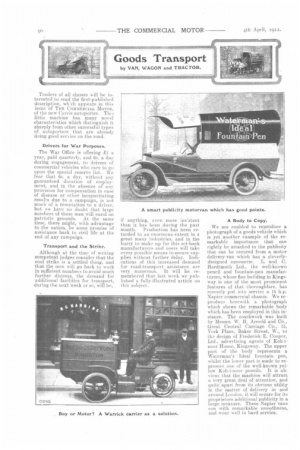 Page 12, 4th April 1912 —
Goods Transport
Close
by VAN! WAGON and TRACTOR.
Traders of all classes will be interested to read the first-published description, wh:ch appears in this issue of THE COMMERCIAL MOTOR, of the new Currie autoporter. This little machine has many novel characteristics which distinguish it sharply from other successful types of autoporters that are already doing good service on the road.
Drivers for War Purposes.
The War Office is offering El a year, paid quarterly, and 6s. a day during engagement, to drivers of commercial vehicles who care to go upon the special reserve list. We fear that 6s. a day, without any guaranteed duration of employment, and in the absence of any provision for compensation in ease of disease or other incapacitating results due to a campaign, is not much of a temntation to a driver, but we have no doubt that large numbers of these men will enrol on patriotic grounds. At the same time, there might, with advantage to the nation, be some promise of assistance back to civil life at the end of any campaign.
Transport and the Strike.
Although at the time of writing competent judges consider that the coal strike is a settled thing, and that the men will go back to work in sufficient numbet s to avoid much further distress, the demand for additional facilities for transport, during the next week or so, will be, if anything, even more insstent than it has been during the past month. Production has been retarded to an enormous extent in a great many industries, and in the hurry to make up for this set-back manufacturers and users will take every possible means to secure supplies without further delay. Indications of this increased demand for road-transport assistance are very numerous. It will be remembered that last week we published a fully-illustrated article on this subject. A Body to Copy.
We are enabled to reproduce a photograph of a goods vehicle which is yet another example of the remarkable importance that can rightly be attached to the publicity that can be secured from a motor delivery-van which has a cleverly
designed carosserie. L. and C. Hardtmuth Ltd., the well-known pencil and fountain-pen manufacturers, whose fine building in Kingsway is one of the most prominent features of that thoroughfare, has recently put into service a 15 h.p. Napier commercial chassis. We reproduce herewith a photograph which shows the remarkable body which has been employed in this instance. The coachwork was built by Messrs. W. H. Arnold and Co., Great Central Carriage Co., 15, York Place, Baker Street., W., to the design of Frederick E. Cooper, Ltd., advertising agents of Koh-inoor House, Kingsway. The upper part of the body represents a Waterma,n's •Ideal fountain pen, whilst the lower part is made to represent one of the well-known yellow Koh-i-noor pencils. It is obvious that. the machine will attract a very great deal of attention, and quite apart from its obvious utility in the matter of delivery in and around London, it will secure for its proprietors additional publicity in a large measure. These Napier vans run with remarkable smoothness, and wear well in hard service.