Opinions and Q ueries
3rd September 1948
Page 47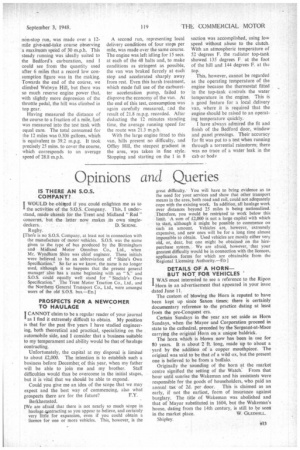 Page 47, 3rd September 1948 —
Opinions and Q ueries
Close
IS THERE AN S.O.S. COMPANY?
WOULD be obliged if you could enlighten me as to the activities of the S.O.S. Company. This, I understand, made chassis for the Trent and Midland " Red " concerns, but the latter now makes its own single
deckers. D. SEIGNE. Rugby.
[TheFe is no S.O.S. Company. at least not in connection with the manufacture of motor vehicles. S.O.S. was the name given to the type of bus produced by the Birmingham and Midland Motor Omnibus Co., Ltd., when Mr. Wyndham Shire was chief engineer. These initials were believed to be an abbreviation of "Shire's Own Specification." So far as we know, the name is no longer used, although it so happens that the present general manager also has a name beginning with an "S." and S.O.S. could equally well stand for " Sinclair's Own Specification." The Trent Motor Traction Co., Ltd.. and the Northern General Transport Co., Ltd., were amongst users of the old S.O.S.
PROSPECTS FOR A NEWCOMER TO HAULAGE
JCANNOT claim to be a regular reader of your journal
as I find it extremely difficult to obtain. My position is that for the past five years I have studied engineering, both theoretical and practical, specializing on the automobile side, and I consider that a business suitable to my temperament and ability would be that of haulage contracting.
Unfortunately, the capital at my disposal is limited to about £2,000. The intention is to establish such a business before Decembes of this year, when my father will be able to join me and my brother. Staff difficulties would thus be overcome in the initial stages, but it is vital that we should be able to expand.
Could you give me an idea of the scope that we may expect and the best way of commencing, also what prospects there are for the future? F.Y.
Berkhamsted.
[We are afraid that there is not nearly so much scope in haulage contracting as you appear to believe, and certainly very little for expansion, even if you could obtain a licence for one or more vehicles. This, however, is the great difficulty: You will have to bring evidence as to the need for your services and show that other transport means in the area, both road and rail, could not adequately cope with the existing work. In addition, all haulage work over distances beyond 25 miles is being nationalized. Therefore, you would be restricted to work below this limit. A sum of £2,000 is not a large capital with which to start, although it might be possible to commence on such an amount. Vehicles are, however, extremely expensive, and new ones will be for a long time almost impossible to obtain. Used vehicles are mostly either very old, or, dear, but one might be obtained on the hirepurchase system. We are afraid, however, that your greatest difficulty would be in connection with the licences. application forms for which are obtainable from the Regional Licensing Authority.—ED I
DETAILS OF A HORN— BUT NOT FOR VEHICLES' IWAS most interested to see a reference to the Ripon Horn in an advertisement that appeared in your issue dated June I 1.
The custom of blowing the Horn is reputed to have been kept up since Saxon times; there is certainly documentary reference to the practice dating at least from the pre-Conquest era.
Certain Sundays in the year are set aside as Horn Sundays, when the Mayor and Corporation proceed in state to the cathedral, preceded by the Sergeant-at-Mace carrying the original Horn on a unique baldrick.
The horn which is blown now has been in use for 80 years. It is about 2 ft. long, made up to about a yard by the addition of a copper mouthpiece. The original was said to be that of a wild ox, but the present one is believed to be from a buffalo.
Originally the sounding of the horn at the market centre signified the setting of the Watch: From that hour until sunrise the Wakeman and his assistants were responsible for the goods of householders, who paid an annual tax of 2d. per door. This is claimed as art early, if not the earliest, form of insurance against burglary. The title of Wakeman was abolished and that of Mayor substituted in 1604, but the Wakeman's house, dating from the 14th century, is still to be seed