Highways Transport for Motor ) Components
3rd September 1948
Page 36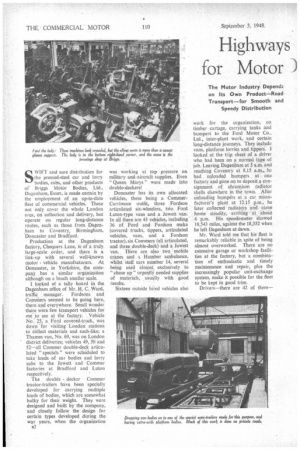 Page 37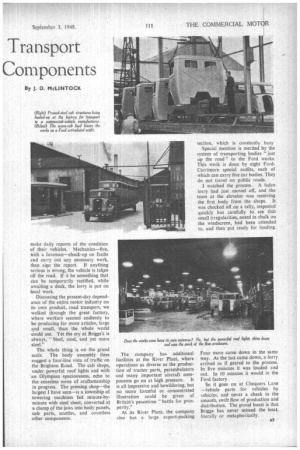 Page 36, 3rd September 1948 —
Highways Transport for Motor ) Components
Close
Keywords :
Transport
,
Land Transport
,
Road Transport
,
Trucks
,
Jowett
,
Commer
,
Ford Motor Company
,
Dagenham
,
Tractor
,
Fordson Tractor
,
Semi-trailer Truck
,
Articulated Vehicle
By J. D. McLINTOCK
SW1FT and sure distribution for the pressed-steel car and lorry bodies, cabs, and other products of Briggs Motor Bodies, Ltd., Dagenham, Essex, is made certain by the employment of an up-to-date fleet of commercial vehicles. These not only cover the whole London area, on collection and delivery, but operate on regular long-distance routes, such as those from Dagenham to Coventry, Birmingham, Doncaster and Bradford.
Production at the Dagenham factory, Chequers Lane, is of a truly. large-scale order, and there is a link-up with several well=known motor vehicle manufacturers. At. Doncaster, in Yorkshire, the company, has a similar organization although on a 'much smaller scale.
I looked at a tally board in the Dagenham office of Mr. H. C. Ward, traffic manager. Fordsons and Comrners seemed to be going here, there and everywhere. Small wonder there were few transport -vehicles for me to see at the facto,ry. Vehicle No.' 25, a Ford covered-truck, was down for visiting London stations to collect materials and such-like; a Thames van, No. 69, was on London district deliveries; vehicles 49, 50 and 52—all Commer double-deck articulated " specials " were scheduled to take loads of car bodies and lorry cabs to the Jowett and Commer factories at Bradford and Luton respectively.
The double decker Commer tractor-trailers have been specially developed for carrying multiple loads of bodies, which are somewhat bulky for their weight. They were designed and built by the company, and closely follow the design for certain types developed during the war years, when the organization was working at top pressure on. military, and aircraft supplies. Even "Queen Marys" were made into double-deckers!
Doncaster has its own allocated vehicles, these being a CommerCarrimore outfit, three Fordson articulated six-wheelers, two Ford Luton-type vans and a Jowett van. In all there are 43 vehicles, including 36 of Ford and Fordson make (covered trucks, tippers, articulated vehicles, vans, and a Fordson tractor), six Commers (all articulated, and three double-deck) and a Jowett van, There are also two mobile cranes and a Humber ambulance, whilst staff cars number 14, several being used almost exclusively to "chase up" urgently needed supplies of materials, usually with good results.
Sixteen outside hired vehicles also work for the organization; on timber cartage, carrying tanks and bumpers to the Ford Motor Co., Ltd., inter-plant work, and certain long-distance journeys. They include vans, platform lorries and tippers. I looked at the trip sheet of a driver who had been on a normal type of job. Leaving Dagenham at 5 a.m. and reaching Coventry at 8.15 a.m., he had unloaded bumpers at one factory and gone on to deposit a consignment of chromium radiator shells elsewhere in the town. After unloading bumpers at a car manufacturer's plant at 12.15 p.m., he later collected radiators and came home steadily, arriving at 'about 6 p.m, His speedometer showed 18,543 miles, against the 18,332 when he left Dagenham at dawn.
Mr. Ward told me that his fleet is remarkably reliable in spite of being almost overworked. There are no extensive garage or workshop facilities at the factory, but a combination of enthusiastic and timely maintenance and repair, plus the increasingly popular unit-exchange system, make it possible for the fleet to be kept in good trim.
Drivers—there are 42 of them—
make daily reports of the condition of their vehicles. Mechanics—five, with a foreman—check-up on faults and carry out any necessary work, then sign the report. If anything serious is wrong, the vehicle is taken off the road. If it be something that can be temporarily rectified, while awaiting a dock, the lorry is put on local work.
Discussing the present-day dependance of the entire motor industry on its own product, road transport, we walked through the great factory, where workers seemed endlessly to be producing far more articles, large and small, than the whole world could use. Yet the cry at Briggs's is always, "Steel, steel, and yet more steel."
The whole thing is on the grand scale. The body assembly lines suggest a four-line vista of traffic on the Brighton Road. The cab shops, under powerful roof lights and with an Olympian spaciousness, echo to the ceaseless noise of craftsmanship in progress. The pressing shop—the largest I have seen—is a township of towering machines fed minute-byminute with steel sheet, converted at a clamp of the jaws into body panels, cab parts, scuttles, and countless other components.
The company has additional• facilities at the River Plant, where operations as diverse as the production of tractor parts, perambulators and many important aircraft components go on at high pressure. It is all impressive and bewildering, but no more forceful or concentrated illustration could be given of Britain's peacetime "battle for prosperity."
At its River Plant, the company also has a large export-packing section, which is constantly busy Special mention is merited by the system of transporting bodies "just up the road" to the Ford works. This work is done by eight FordCarrimore special outfits, each of which can carry five car bodies. They do not travel on public roads.
I watched the process. A laden lorry had just moved off, and the team at the elevator was receiving the first body from the shops. It was checked off on a tally, inspected quickly but carefully to see that small irregularities, noted in chalk on the windscreen, had been attended to, and then put ready for loading.
Four more came down in the same way. As the last came down, a lorry arrived as if geared to the process. In five minutes it was loaded and out In 10 minutes it would in the Ford factory.
So it goes on at Chequers Lane —Vehicle parts for vehicles by vehicles, and never a check in the smooth, swift flow of production and distribution. The proud boast is that Briggs has never missed the boat, literally or metaphorically.