South African Police Use Mobile Stables
3rd September 1948
Page 34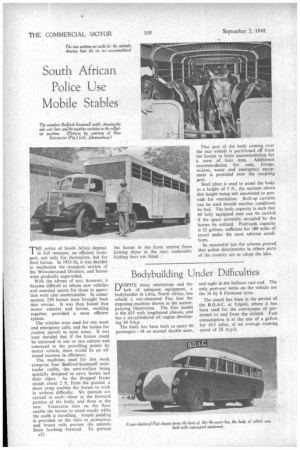 Page 34, 3rd September 1948 —
South African Police Use Mobile Stables
Close
T"police of South Africa depend. in full measure, on efficient transport, not only for themselves, but for their horses. In 1935-36, it was decided to mechanize the transport section of the Witwatersrand Division. and horses
were gradually superseded. • With the advent of war, however, it became difficult to obtain new vehicles and essential spares for those in operation were also unobtainable. In consequence, 250 horses were brought back into service. It was then found that motor vehicles and horses, working together, provided a most efficient system.
The vehicles were used for city work and emergency calls, and the horses for routine patrols in rural areas. It was later decided that if the horses could be stationed in one or two centres and conveyed to the patrolling points by motor vehicle, there would be an allround increase in efficiency.
The machines used for this work comprise four Bedford-Scammell semitrailer outfits, the semi-trailers being specially designed to carry horses. and their riders. As the dropped frame stands about 2 ft. from the ground, a short ramp enables the horses to walk in without difficulty. Six animals are carried in each—three in the forward portion of the body, and three at the rear. Transverse slats on the floor enable the horses to stand steady while the outfit is travelling. Ample padding is provided on the sides as protection.. and breast rails prevent the animals from lurching forward. To prevent A32 the horses in the front section from kicking those in the rear, rem'ovable kicking bars are fitted. That part of the body coming over the rear wheels is partitioned off &Om the horses to form accommodation for a crew of four men. Additional accommodation for men, forage, rations, water and emergency equipment is provided over the coupling gear.
Steel plate is used to panel the body to a height of 5 ft., the sections above this height being left uncovered to provide for ventilation. ,Roll-up curtains can be used should weather conditions be bad. The body capacity is such that 60 fully equipped men can be carried if the space normally occupied by the horses be utilized. Fuel-tank capacity is 32 gallons, sufficient for 180 miles of travel under the most adverse conditions.
So successful has the scheme proved that police detachments in others parts of the country are to adopt the idea.