Articulated Buses Carry 88 Passengers T HE Fairal system of light-alloy
3rd September 1948
Page 33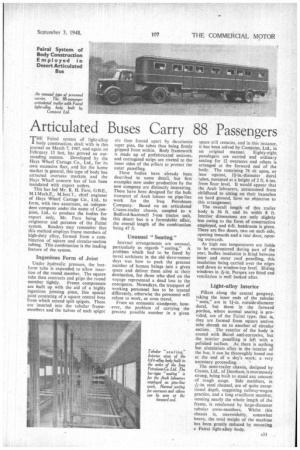 Page 33, 3rd September 1948 —
Articulated Buses Carry 88 Passengers T HE Fairal system of light-alloy
Close
Keywords :
Transport
,
Technology
,
Camping Equipment
,
Tent
,
Superleggera
,
Tubular
,
Crane
,
Aluminium Alloy
,
Frame
,
Ac Cars
,
Engineering
body construction, dealt with in this journal on March 7, 1947, and again on February 13 last, has proved an outstanding success. Developed by the Hays Wharf Cartage Co., Ltd., for its own extensive fleet, and for the home market in general, this type of body has attracted overseas markets and the Hays Wharf concern has of late been inundated with export orders.
This has led Mr. R. H. Faro, O.B.E., M.I.Mech.E., M.Inst.T., chief engineer of Hays Wharf Cartage Co., Ltd., to form, with two associates, an independent company under the name of Cornjoint, Ltd., to produce the bodies for export only, Mr. Faro being the originator and patentee of the Fairal system. Readers may remember that this method employs frame members of high-duty alloy, formed from a combination of square and circular-section tubing. This combination is the leading feature of the system,
Ingenious Form of Joint
Under hydraulic pressure, the boxform tube is expanded. to allow insertion of the round member. The square tube then contracts and grips the round member tightly. Frame components are built up with the aid of a highly ingenious jointing piece, this special joint consisting of a square central boss from which extend split spigots. These are inserted into the tubular framemembers and the halves of each spigot are then forced apart by duralumin taper pins, the tubes thus being firmly gripped from within. Body framework is made up of prefabricated sections, and corrugated strips are riveted to the inner sides of the pillars to protect the outer panelling.
These bodies have already been described in some detail, but first examples now under production by the new company are distinctly interesting. These have been designed for the bulk transport of Arab labour on pipe-line work for the Iraq Petroleum Company. Based on an articulated Cranes-trailer chassis, coupled to a Bedford-Scammell 5-ton tractor unit, this desert bus is a formidable affair, the overall length of the combination being 47 ft.
Unusual " Seating "
Internal arrangements are unusual, particularly as regards " seating," A problem which had to be faced by naval architects in the old slave-runner days was how to pack the greatest number of human beings into a given space and deliver them alive at their destination, for those who died on the voyage represented a dead loss to the consigners. Nowadays, the transport of working personnel has to be treated differently, otherwise the personnel will refuse to work, or even travel.
From an economic standpoint, however, the problem of carrying the greatest possible number in a given
space still remains, and in-this instance, it has been solved by Comjoint, Ltd., in an original manner. Eighty-eight passengers are carried and ordinary seating for 12 overseers and others is arranged at the forward end of the body. The remaining 76 sit upon, or lean against, 1f-in.-diameter dural tubes, mounted at a height of 2 ft. 6 ins. from floor level. It would appear that the Arab labourers, accustomed from childhood to sitting on their haunches on hard ground, have no objection to this arrangement.
The . overall length of this trailer body is 36 ft. and its width 8 ft. Interior dimensions are only slightly less owing to the form of construction employed, and 6-ft. headroom is given. There are five doors, two on each side, opening inwards and a rear door, opening outwards.
As high sun temperatures are liable to be encountered during part of the year, Isoflex insulation is fitted between inner and outer roof panelling, this insulation being carried over the edges and down to window-top level. Sliding windows in 136-in. Perspex are fitted and ventilation is well looked after.
Light-alloy Interior
Pillars along the central gangway, taking the inner ends of the tubular
" seats," are in outside-diameter dural, but those in the forward portion, where normal seating is provided, are of the Fairal type; that is, they are formed from square section tube shrunk on to another of circular section. The exterior of the body is coated with Bicrol anti-corrosive, but the interior panelling is left with a polished surface. As there is nothing but aluminium alloy in the interior of the bus, it can be thoroughly hosed out at the end of a day's work; a very necessary proceeding.
The semi-trailer chassis, designed by Cranes, Ltd., of Dereham, is enormously strong, being built to stand any amount of rough usage. Side members, in A-in. steel channel, are of quite exceptional depth, suggesting railway-wagon practice, and a long cruciform member, running nearly the whole length of the frame, is reinforced by large-diameter tubular cross-merrtbers. Whilst this chassis is, unavoidably, somewhat heavy, the total weight of the machine has been greatly reduced by mounting a Fairal light-alloy body.