I.R.F. Developtn
3rd September 1948
Page 29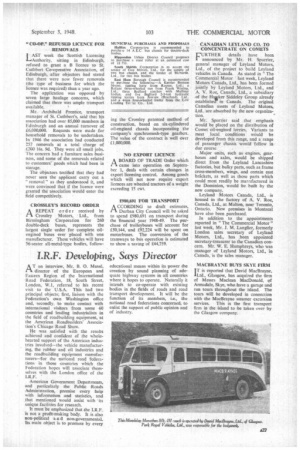 Page 29, 3rd September 1948 —
I.R.F. Developtn
Close
* g, Says Director
•
T an interview, Mr. B. 0. Masse, rk director of the Europeanand Eastern Region of the International -Road Federation, 18, South Street, London, W.1, referred to his recent visit to the U.S.A. This had two principal objects; first, liaison with the Federation's own Washington office arid, secondly, to make contact with international visitors from some 60 countries and leading industrialists in the field of roadbuilding equipment, at the American Roadbuilders' Association's Chicago Road Show.
He was satisfied with the results achieved and confident of the wholehearted support of the American industries involved—the vehicle manufacturing, the rubber and ail industries and the roadbuilding equipment manufacturers—Ior the national road federations in those countries which the Federation hopes will associate 'themselves with the London office of the I.R.F.
Ainerican Government Departments, and particularly the Public Roads Administration, promise every help with information and statistics, and that mentioned would assist with 'its unique facilities for research.
It must be emphasized that the is not a profit-making body. It is also non-political a n d non-governmental. Its main object is to promote by every educational means within its power the creation by sound planning of adequate highway systems in all countries where it hopes to operate. Naturally it intends to co-operate with existing bodies in The fields of roads and road transport development. It will be the function of its members, i.e., the national road federations concerned, to enlist the support of public opinion and of industry.