• New Passenger Chassis to be
3rd September 1948
Page 28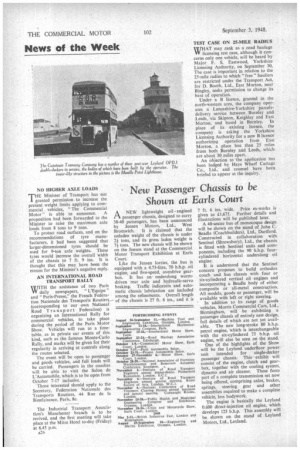 Page 28, 3rd September 1948 —
• New Passenger Chassis to be
Close
Shown at Earls Court
ANEW lightweight oil engined passenger chassis, designed to carry 38-40 passengers, has been announced by Jensen Motors, Ltd., West Bromwich. It is claimed that the unladen weight of the chassis is under tons, and its gross laden weight is 7, tons. The new chassis will be shown on the Jensen stand at the Commercial Motor Transport Exhibition at Earls Court.
Like the Jensen lorries, the bus is equipped with a 4.73-litre, 70 b.h.p. oil engine, and five-speed, overdrive gearbox. It has an underslung wormdriven rear axle and hydraulic-servo braking. Traffic indicators and automatic chassis lubrication are included among the refinements. Overall length of the chassis is 27 ft. 6 ins., and it is 7 ft. 6 ins. wide. Price ex-works is given as £1,675. Further details and illustrations will be published later.
A 40-seater bus of monocoque design will be shown on the stand of John C. Beadle (Coachbuilders), Ltd., Dartford. Constructed in collaboration with Sentinel (Shrewsbury), Ltd., the chassis is fitted with Sentinel units and components, including the 90 b.h.p. fourcylindered horizontal underslung oil engine.
It is understood that the Sentinel concern proposes to build orthodox coach and bus chassis with four or six-cylindered vertical oil engines and Incorporating a Beadle body of either composite or all-metal construction. All models, goods or passenger, will be available with left or right steering.
In addition to its range of goods vehicles, Morris Commercial Cars, Ltd., Birmingham, will be exhibiting a passenger chassis of entirely new design, full details of which are not yet available. The new long-stroke 80 b.h.p. petrol engine, Which is interchangeable with the six-cylindered 75 b.h.p. oil engine, will also be seen on the stand.
One of the highlights of the Show will be the Leyland underfloor power. unit intended for single-decker passenger chassis: This exhibit will consist of the engine, clutch and gearbox, together with the cooling system, dynamo and air cleaner. These form part of a complete transmission set now being offered, comprising axles, brakes, springs, steering gear and other assemblies required to make a complete vehicle, less bodywork.
The engine is basieally the Leyland 0.600 direct-injection oil engine, which develops 125 b.h.p. This assembly will be shown on the stand of Leyland Motors, Ltd., Leyland.