Passing Comments
3rd September 1948
Page 26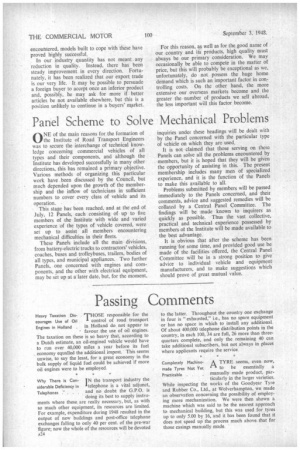 Page 27
Page 26, 3rd September 1948 —
Passing Comments
Close
Heavy Taxation DisTHOSE responsible for the courages Use of Oil " control of road transport Engines in Holland . in Holland do not appear to
• favour the use of oil engines. The taxation on these is so heavy that, according to a Dutch estimate, an oil-engined vehicle would have to run over 40,000 miles a year before its fuel economy equalled the additional impost. This seems unwise, to say the least, for a great economy in the bulk supply of liquid fuel could be achieved if more oil engines were to be employed.
IN the transport industry the 'telephone is a vital adjunct, and no doubt the G.P.O. is doing its best to supply instruments where these, are really necessary, but, as with so much other equipment, its resources are limited. For example, expenditure during 1948 resulted in the output of new buildings and post-office telephone exchanges falling to only 40 per cent, of the pre-war figure; now the whole of the resources will be devoted .424 Why There is Considerable Deficiency in Telephones .• . . . to the latter. Throughout the country one exchange in four is "exhausted," i.e., has no spare equipment or has no space in which to install any additional. Of about 400,000 telephone distribution points in the country, in each 100, 34 are full, 26 more than threequarters complete, and only the remaining 40 can take additional subscribers, but not always in places where applicants require the service Completely MachineA TYRE seems, even now, made Tyres Not Yet 4-11 to be essentially a Practicable . manually made product, par ticularly in the larger varieties. While inspecting the works of the Goodyear Tyre and Rubber Co., Ltd., at Wolverhampton, we made an observation concerning the possibility of employing more mechanization. We were then shown a machine which was said to be the nearest approach to mechanical building, but this was used for tyres up to only 5.00 by 16, and it has been found that it does not speed up the process much above that for those casings manually made. Electric Heater PrenPERATORS of oil-engined vents Oil-fuel Trouble vehicles which may have in Cold to traverse districts, such as
high mountain passes, where there is extreme cold, sometimes have difficulty owing to the freezing, thickening or increase in density of the fuel. Little trouble is likely to be experienced much above zero F., but about that temperature coagulation may occur in the fuel line. Apart from this, the fuel ceases to act as a good lubricant for the pump, whilst the latter may freeze up. There may also be difficulty with sticking of the injectors. In this connection, the Lang Transportation Corporation of Los Angeles has developed a small electric heater which may be situated at the top of side tanks or under larger tanks. The unit takes a maximum of 6 amps. and the fuel running into it is heated to about 60 degrees F. Control is by a simple switch.
What Sound FreIT is well known that some quency Can Your Ears 'sound waves are of such a Hear ? high frequency that they are
above the capacity of the human ear. It is, however, surprising how ears vary in different people, or, in fact, in the same person. Recently we heard of a man who started to build up a sound studio. Amongst the equipment purchased was a high-fidelity loudspeaker, and to test this he borrowed a frequency record giving sound waves ranging from 50 to 10,000. He found, however, that he could hear only those below 4,000 and thought at first that the speaker was a bad one. Trying it out further, he discovered that his wife could clearly distinguish frequencies up to 10,000. Other tests showed that few men could hear above 5,000, but most women, 10,000. It is said that dogs can hear up to 20,000. There arc already " silent " dog whistles, and it seems that soon we may be able to have a type audible to women. hut pot to men!