Panel Scheme to Solve Mechanical Problems
3rd September 1948
Page 26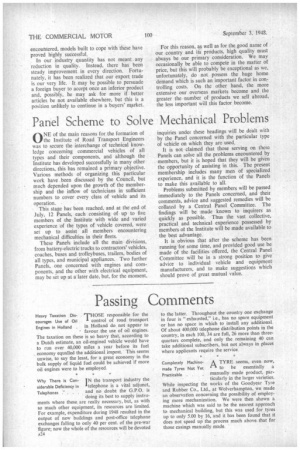 Page 26, 3rd September 1948 —
Panel Scheme to Solve Mechanical Problems
Close
ONE of the main reasons for the formation of ...athe Institute of Road Transport Engineers was to secure the interchange of technical knowledge concerning commercial vehicles of all types and their components, and although the Institute has developed successfully in many other directions, this has remained a primary objective. Various methods of organizing this particular work have been discussed by the Council, but much depended upon the growth of the membership and the inflow of technicians in sufficient numbers to cover every class of vehicle and its operation. • This stage has been reached, and at the end of July, 12 Panels, each consisting of up to five members of the Institute with wide and varied experience of the types of vehicle covered, were set up to assist all members encountering mechanical difficulties in their fleets.
These Panels include all the main divisions, from battery-electric trucks to contractors' vehicles, coaches, buses and trolleybuses, trailers, bodies of all types, and municipal appliances. Two further Panels, one concerned with engines and components, and the other with electrical equipment, may be sel up at a later date, but, for the moment, inquiries under these headings will be dealt with by the Panel concerned with the particular type of vehicle on which they are used.
It is not claimed that those serving on these Panels can solve all the problems encountered by members, but it is hoped that they will be given the opportunity of assisting in this. The present membership includes many men of specialized experience, and it is the function of the Panels to make this available to all.
Problems submitted by members will be passed immediately to the Panels concerned, and their comments, advice and suggested remedies will be collated by a Central Panel Committee. The findings will be made known to inquirers as quickly as possible. Thus the vast collective, practical and technical experience possessed by members ot the Institute will be made available to the best advantage.
It is obvious that after thescheme has been running for some time, and provided good use be made of the facilities offered, the Central Panel Committee will be in a strong position to give advice to individual vehicle and equipment manufacturers, and to make suggestions which should prove of great mutual value.