A Market for the World •S INCE the conclusion of hostilities
3rd September 1948
Page 25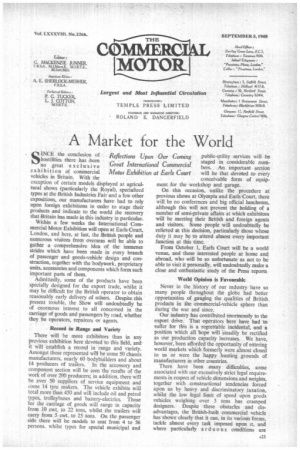 Page 26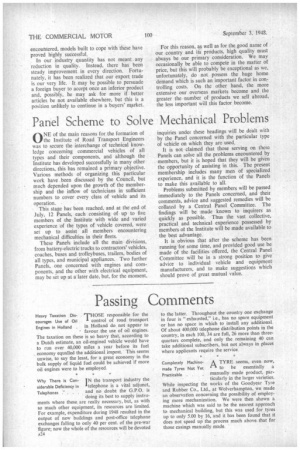 Page 25, 3rd September 1948 —
A Market for the World •S INCE the conclusion of hostilities
Close
there has been no great exclusive exhibition of commercial vehicles in Britain. With the exception of certain models displayed at agricultural shows (particularly the Royal), specialized types at the British Industries Fair and a few other expositions, our manufacturers have had to rely upon foreign exhibitions in order to stage -their products and indicate to the world the recovery that Britain has made in this industry in particular.
Within a few weeks the International Commercial Motor Exhibition will open at Earls Court, London, and here, at last, the British people and numerous visitors from overseas will be able to gather a comprehensive idea of the immense strides which have been made in every branch of passenger and goods-vehicle design and construction, together with the bodywork, proprietary units, accessories and components which form such important parts of them.
Admittedly, some of the products have been specially designed for the export trade, whilst it may be difficult for the British operator to obtain reasonably early delivery of others. Despite this present trouble, the Show will undoubtedly be of enormous interest to all concerned in the carriage of goods and passengers by toad, whether they be operators, repairers or agents.
• Record in Range and Variety There will be more exhibitors than in any Previous exhibition here devoted to this field, and it will establish a record in range and variety. Amongst those represented will be some 50 chassis manufacturers, nearly 60 bodybuilders and about 14 producers of trailers. In the accessory and component section will be seen the results of the Work of over 200 producers; in addition, there will be over 50 suppliers of service equipment and .,ome 14 tyre makers. The vehicle exhibits will total more than 450 and will include oil and petrol types, trolleybuses and battery-electrics. Those for the carriage of goods will range in capacity from 10 cwt. to 22 tons, whilst the trailers will carry from 5 cwt. to 25 tons. On the passenger side there will be models to seat from 4 to 56 persons. whilst types for special municipal and public-utility services will be staged in considerable numbers. An important section will be that devoted to every conceivable form of equipment for the workshop and garage.
On this occasion, unlike the procedure at previous shows at Olympia and Earls Court, there will be no conferences and big official luncheons, although this will not prevent the holding of a number of semi-private affairs at which exhibitors will be meeting their British and foreign agents and visitors. Some people will undoubtedly be relieved at this decision, particularly those whose duty it may be to attend almost every important function at this time.
From October 1., Earls Court will be a world venue, and those interested people at home and abroad, who will be so unfortunate as not to be able to visit it personally, will undoubtedly make a close and enthusiastic study of the Press reports World Opinion is Favourable Never in the history of our Industry have so many people throughout the globe had better opportunities of gauging the qualities of British products in the commercial-vehicle sphere than during the war and since.
Our industry has contributed enormously to the export drive. That operators here have had to suffer for this is a regrettable incidental, and a position which all hope will 'steadily be rectified as our production capacity increases. We have, however, been afforded the opportunity of entering world markets which formerly were almost closed to us or were the happy hunting grounds of manufacturers in other countries.
There have been many difficulties, some associated with our excessively strict legal requirements in respect of vehicle dimensions and weights, together with constructional tendencies forced upon us by heavy and discriminatory taxation, whilst the low legal limit of speed upon goods vehicles weighing over 3 tons has cramped designers. Despite these obstacles and disadvantages, the British-built commercial vehicle has shown dearly that it can, in its various forms, tackle almost every task imposed upon it, and where particularly arduous conditions are encountered, models built to cope with these have proved highly successful.
In our industry quantity has not meant any reduction in quality. Instead, there has been steady improvement in every direction. Fortunately, it has been realized that our export trade is our very life. It may be possible to persuade a foreign buyer to accept once an inferior product and, possibly, he may ask for more if better articles be not available elsewhere, but this is a position unlikely to continue in a buyers' market. For this reason, as well as for the good name of our country and its products, high quality must always be our primary consideration. We may occasionally be able to compete in the matter of price, but this will probably be exceptional as we, unfortunately, do not possess the huge home demand which is such an important factor in controlling costs. On the other hand, the more extensive our overseas markets become and the greater the number of products we sell abroad, the less important will this factor become.