A 10-cWt. Truck Sells for 185
3rd September 1937
Page 35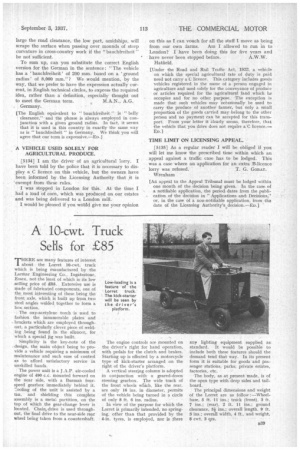 Page 35, 3rd September 1937 —
A 10-cWt. Truck Sells for 185
Close
THERE are many features of interest about the Lorret 10-cwt. truck which is being manufactured by the Lamar Engineering Co., Ingatestone, Essex, not the. least of which is its low selling price of AM. Extensive use is made of fabricated components, one of the most interesting of these being the front axle, which is built op from two steel angles welded together to form a box section.
• The oxy-acetylene torch is used to fashion the innumerable plates and brackets which are employed throughout, a particularly clever piece of welding .being found in the silencer, for which a special jig was built.
Simplicity is the key-note of the design, the main object being to provide a vehicle requiring a minimum of maintenance and such ease of control as to afford satisfactory service in unskilled hands.
The power unit is a J.A.P. air-cooled engine of 490 c.c. mounted forward on the near side, with a Burman fourspeed gearbox immediately behind it .cooling of the unit is assisted by a fan, and shielding this complete assembly is a metal partition, on the top of which the gear-change lever is located. Chain,•drive is used throughout, the final drive to the near-side rear wheel being taken from a countershaft.
The engine controls are mounted on the driver's right for band operation, with pedals for the clutch and brakes. Starting up is effected by a motorcycle type of kick-starter arranged on the right of the driver's platform.
A vertical steering column is adopted in conjunction with a geared-clown steering gearbox. The wide track of the front wheels wnich, like the rear, are only 16 ins. in diameter, permits of the vehicle being turned in a circle of only 8 ft. 6 ins. radius.
In view of the purpose for which the Lorret is primarily intended, no springing, other than that provided by the 4-in. tyres, is employed, nor is there
any lighting equipment supplied as standard. It would be possible to include both these features should the demand tend that way. In its present form it is suitable for goods and passenger stations, parks, private estates, factories, etc.
'Thebody, as at .present made, is of the open type with drop sides and tailboard.
The principal dimensions and weight of the Lorret are as follow --Wheelbase, 5 ft. 11 ins.; track (front), 3 ft.
7 ins.; (rear). 2 ft. 11 ins.; ground clearance, 5i ins.; overall length, 9 ft. 3 ins.; overall width, 4 ft., and weight,
8 cwt. 3 qrs.