OPINIONS
3rd September 1937
Page 34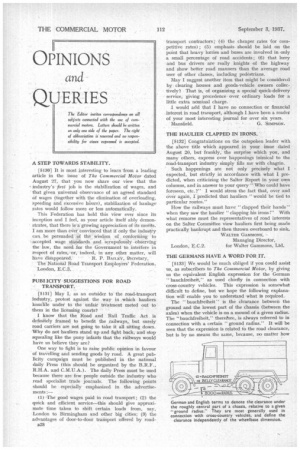 Page 35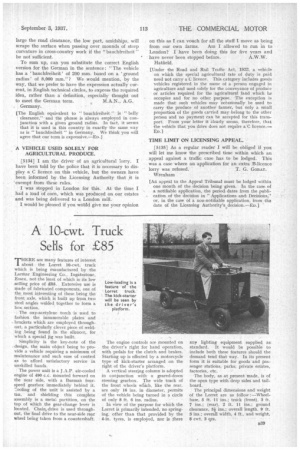 Page 34, 3rd September 1937 —
OPINIONS
Close
and
QUERIES
A STEP TOWARDS STABILITY.
[5130] It is most .interesting to learn from a leading article in the issue ' of The Commercial Motor dated August 27, that you now share our view that the industry's first job is the stabilization of wages, and that given universal observance of an agreed standard of wages (together with the elimination of overloading, Speeding and. excessive hOurs), stabilization of haulage rates would follow more or less automatically.
This Federation has held this view ever since its inception and I feel, as your article itself ably demonstrates, that there is .a growing appreciation of its merits. I am more than ever convinced that if only the industry can be persuaded of the wisdom of , conforming to accepte-d wage standards and scrupulously observing the Law, the need for the Government to interfere in respect of rates, or, indeed, in any other matter, will
have disappeared: R. P. BAILEY, .9ecretary, . The National Road Transport Employers' Federation. London, E.C.3.
PUBLICITY SUGGESTIONS FOR ROAD TRANSPORT.
[5131] May I, as an outsider to the road-transport industry, protest against the way in which hauliers knuckle under to the unfair treatment meted out to them in the licensing courts?
I know that the Road and Rail Traffic Act is definitely framed to benefit the railways, but surely road carriers are not going to take it all sitting down. Why do not hauliers stand up and fight back, and stop squealing like the puny infants that the railways would have us believe they are?
One way to fight is to raise public opinion in favour of travelling and sending goods by road. A great publicity campaign must be published in the national daily Press (this should be organized by the B.R.F., R.H.A. and C.M.U.A.). The daily Press must be used because there are few people outside the industry who read specialist trade journals. The following points should be especially emphasized in the advertisements :—
(1) -The good wages paid in road transport ; (2) the quick and efficient service—this should give approximate time taken to shift certain loads from, say, London to Birmingham and other big cities; (3) the advantages of door-to-door transport offered by road
B38 transport contractors; (4) the cheaper rates (or competitive rates) ; (5) emphasis. should be laid on the point that heavy lorries and buses are involved in only a small percentage of road accidents ; (6) that lorry and bus drivers are really knights of the highway and show better road manners than the average road user of other classes, including pedestrians.
May I suggest another item that might be considered by clearing houses and goods-vehicle owners collectively? That is, of organizing a special quick-delivery service, giving precedence over ordinary loads for a little extra nominal charge.
I would add that I have no connection or financial interest in road transport, although I have been a reader of your most interesting journal for over six years Mansfield. G. SIMPSON.
THE HAULIER CLAPPED IN IRONS.
[5132] Congratulations on the outspoken leader with the above title which appeared in your issue dated August 20, but frankly, the surprise which you, and many others, express over happenings inimical to the road-transport industry simply fills me with chagrin.
Such happenings are not only precisely what I expected, but strictly in accordance with what I predicted, when criticizing the Salter Report in your own columns, and in answer to your query' Who could have foreseen, etc.?" I would stress the fact that, over and over again, I predicted that hauliers "would be tied to particular routes."
How the railways must have "clapped their hands" when they saw the haulier "clapping his irons!" With what remorse must the representatives of road interests on the Salter Committee view hauliers first being made practically bankrupt and then thrown overboard to sink
WALTER GAMMONS, Managing Director, London, E.C.2. for Walter Gammons, Ltd.
THE GERMANS HAVE A WORD FOR IT.
[5133] We would be much obliged if you could assist us, as subscribers to The Commercial Motor, by giving us the equivalent English expression for the German bauchfreiheit," as used chiefly in connection with cross-country vehicles. This expression is somewhat difficult to define, but we hope the following explanation will enable you to understand what is required..
The " bauchfreiheit " is the clearance between the ground and the lowest part of the Chassis (between the axles) when the vehicle is on a mound of a given radius. The " bauchfreiheit," therefore, is always referred to in connection with a certain "ground radius." It will be seen that the expression is related to the road clearance, but is by no means the same, because, no matter how large the road clearance, the low part, amidships, will scrape the surface when passing over mounds of steep curvature in cross-country work if the "bauchfreiheit " be not sufficient.
To sum up, can you substitute the correct English version for the German in the sentence: "The vehicle has a bauchfreiheit ' of 200 mm. based on a ground radius' of 8,000 mm,"? We would mention, by the way, that we prefer to have the expression actually current, in English technical circles, to express the required idea, rather than a' definition, especially thought out
to meet the German term. M.A.N., A.G.
Germany.
[The English equivalent to " bauchfreiheit " is "belly
clearance," • and the phrase is always employed in conjunction with a given ground radius. In fact, it seems that it is used in this country in exactly the same way as is " bauchfreiheit " in Germany. We think you will agree that our term is expressive—En.]
A VEHICLE USED SOLELY FOR AGRICULTURAL PRODUCE.
[5134] I am the driver of an agricultural lorry. I have been told by the police that it is necessary to display a.0 licence on this vehicle, but the owners have been informed lay the Licensing Authority that it is 'exempt from these rules.
I was stopped in London for this. At the time I had a load of corn, which was produced on our estates and was being delivered to a London mill.
I would be pleased if you wonld give me your opinion on this as I can vouch for all the stuff I move as being from our own farms. Am I allowed to run in to London? I have been doing this for five years and
• have never been stopped before. A.W.W. Hatfield.
[Under the Road and Rail Traffic Act, 1933, a vehicle on which the special agricultural rate of duty is paid need not carry a C licence. This category includes goods vehicles registered in the name of a person engaged in agriculture and used solely for the conveyance of produce or articles required for the 'agricultural land which he occupies and for no other purpose. The exception is made that such vehicles may oceasionally be used to carry the produce of another farmer, but only a small proportion of the goods carried may belong to the other person and no payment can be accepted for this transport. From your letter it -clearly seems, therefore, that the vehicle that you drive does not require a C licence.— En.]
TIME LIMIT ON LICENSING APPEAL.
[5135] As a regular reader I will be obliged if you will let me know the prescribed time within which an appeal against a traffic case has to be lodged. This was a case where an application for an extra 17171icence
lorry was refused. T. G. GOBAT. Wrexham
[Aii appeal to the Appeal Tribunal must be lodged within one month of the decision being given. In the case. of a notifiable application, the period dates from the publication of the decision in "Applications and Decisions;' or, in the case of a non-notifiable application, from the date of the Licensing Authority's decision.'—En.]