Paris Finished with Trams
3rd September 1937
Page 32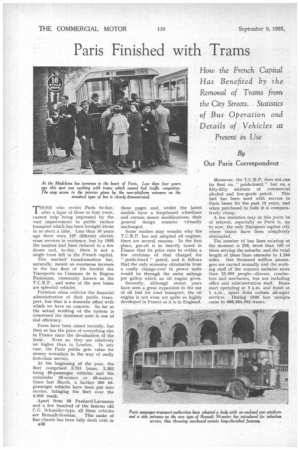 Page 33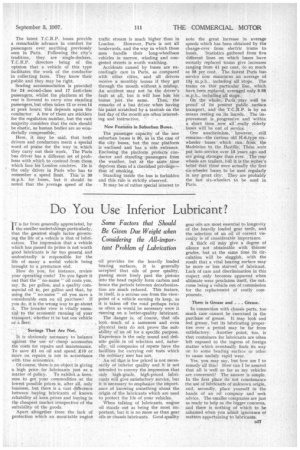 Page 32, 3rd September 1937 —
Paris Finished with Trams
Close
How the French Capital Has Benefited by the Removal of Trams from the City Streets. Statistics of Bus Operation and Details of Vehicles at Present in Use
By
Our Paris Correspondent 'THOSE who revisit Paris to-day, 1 after a lapse of three or four years, cannot help being impressed by the vast improvement in public surface transport which has been brought about in so short a: time. Less than 10 years ago there were .151 different electric tram services in existence, but by 1935 the number had 'been reduced to a few dozen and, to-day, there is not a single tram left in the French capital.
This marked transformation has, naturally, meant an enormous increase in the bus fleet of the Societe des Transports en Commun de la Region Parisienne, Commonly known as the T.C.R.P., and some of the new buses are Splendid vehicles.
Parisians often criticize the financial administration of their public transport, but that is a domestic affair with which we have no concern. So far as the actual working of the system is concerned the dominant note is one of real efficiency.
Fares have been raised recently, but then so has the price of everything else M France since the devaluation of the franc. Even so, they are relatively no higher than in London. In any case, the Paris public gets value for money nowadays in the way of really first-class service.
At the beginning . of the year, the fleet comprised 3,751 buses, 2,382 being 50-passenger vehicles and the remainder 26-seaters or 48-seaters. Since Last March, a .further 300 50passenger vehicles have been put into service, bringing the fleet over the 4,000 mark.
Apart from 50 Panhard-Lavassors and a few hundred of the famous old C.G. Schneider-type, all these vehicles are Renault-Sc.emias. This make of bus chassis has been fully dealt with in a38 these pages and, whilst the latest models have a lengthened wheelbase and certain minor modifications, their general design remains virtually unchanged.
Some readers may wonder why the T.C.R.P. has not adopted oil engines; there are several reasons. In the first place, gas-oil is so heavily taxed in France that its price runs to within a few centimes of that charged for " poids-lourd " petrol, and it follows that the only economy obtainable from a costly change-over in power units would be through the extra mileage per gallon which an oil engine gives.
Secondly, although recent years have seen a great expansion in the use of oil fuel for road transport, the oil engine is not even yet quite so highly developed in France as it is in England. Moreover, the T.C.R.P. does not, run its fleet on " poids-lourd," but on a fifty-fifty mixture 'of commercial alcohol and low-grade petrol. This fuel has been used with success in Paris buses for the past 15 years, mad when purchased in bulk it is comparatively cheap.
A few statistics may at this point be of interest, .especially as Paris is, up to now, the only Europeancapital city where trams have been completely eliminated.
The number of bus fines existing at the moment is 226, more than 150 of them serving the suburbs, and.the total length of these lines amounts to 1,240 miles. One thousand million passengers are carried annually and the working staff of the concern includes more than 25,000 people—drivers, conductors and mechanics, but not including office and administrative staff. Buses start operating at 3 a.m. and finish at 1 a.m., apart from certain all-night services. During 1936 fare receipts came to 686,584,092 francs.'
The latest T.C.R.P. buses provide a remarkable advance in comfort for passengers over anything previously seen in Paris. Following the city's tradition, they are single-deckers, T.C.R.P, directors being of the opinion that a vehicle of this type facilitates the work of the conductor in collecting fares. They know their public and they may be right.
Seating accommodation is provided for 24 second-class and 17 first-class passengers, whilst the platform at the rear is licensed to carry nine standing passengers, but often takes 12 or even 14 at peak hours; this depends upon the conductor. A few of them are sticklers for the regulation number, but the vast majority, considers that the rule should be elastic, as human bodies are so wonderfully compressible.
Here, it may be said, that both drivers and conductors merit a special word of praise for the way in which they carry out their work. The Paris bus driver has a different set of problems with which to contend from those which face his London confrere. He is the only driver in Paris who has to remember a speed limit. This is -30 m.p.h. for buses, but it should be noted that the average speed of the
traffic stream is much higher than in London. However, Paris is not all boulevards, and the way in which these men handle their long-wheelbase vehicles in narrow, winding and congested streets is worth watching.
Accidents caused by buses are exceedingly rare in Paris, as compared with other cities, and all drivers receive a monthly bonus if they get through the month without a mishap. An accident may not be the driver's fault at all, but it will lose him his bonus just the same. Thus, the remarks of a buS driver, when having his paint scratched by a taxicab on the last day of the month are often interest ing and instructive. •
New Features in Suburban Buses.
The passenger capacity of the new suburban buses is 50, as in the case of the city buses, but the rear platform is enclosed and has a side entrance. Enclosing the platform protects conductor and standing passengers from the weather, but at the seine time deprives them of a cherished privilege—
that of smoking. ' • Standing inside the bus is forbidden and this rule is strictly observed.
It may be of rather special interest to note the great increase in average speeds which has been obtained by the change-over from electric trams to buses. Statistics gathered from five different lines on which buses have recently replaced trams give increases ranging from 41 per cent. to so much as 58 per cent. The fastest Paris bus service now maintains an average of 13i m.p.h., including all stops. The trains on this particular line, which have been replaced, averaged only 8.138 m.p.h., including all stops.
On the whole, Paris may well be prOud of "its present public surface transport, and the T.C.R.P. is by no means resting on its Laurels. The improvement is progressive and "within a short time now all .really elderly buses will 'be out of service.
One anachrOnism, however, still remains—the ciirtous old H-6-type sixwheeler . buses •' ,which run from the Madeleine to the Bastille. These were, put into ,service over 15 Years. ago and are going stronger than ev.er. . The rear wheels are trailers, but it is the writer's belief that these were actually the first six-Wheeler buses, to be Used regularly in any great citY. They are probably the last six-wheelers to be used in Paris.