A Multi-purpose Freighter • T HE accompanying pictures show an interesting S.D.
3rd September 1937
Page 31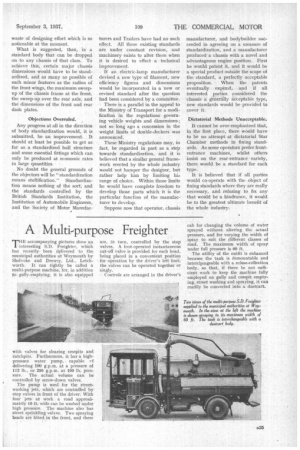 Page 31, 3rd September 1937 —
A Multi-purpose Freighter • T HE accompanying pictures show an interesting S.D.
Close
Freighter, which has recently, been delivered to the municipal authorities at Weymouth by Shelvoke and Drewry, Ltd., Letchworth. It can rightly be caUed a multi-purpose machine, for, in addition to gully-emptying, it is also equipped
with valves for clearing cesspits and catchpits. Furthermore, it has a highpressure water pump, . capable ef delivering 100 g.p.m, at a pressure of 112 lb., or 250 g.p.m. at 100 lb. pressure. The actual volume can be controlled by screw-down valves.
The pump is used for the streetwashing jets, which are controlled by stop valves in front of the driver. With four jets at work a road approximately 10 ft, wide can be washed under high pressure. The machine also has street sprinkling valves. Two spraying heads are fitted in the front, and these are, in turn, controlled by the stop valves. A foot-operated instantaneous cut-off valve is provided for each head, being placed in a convenient position for operation by the' driver's left foot; the Valves can be operated together or singly.
Controls are arranged in the driver's cab for changing the volume of water sprayed without altering the actual pressure, and for varying the width of spray to suit the different classes of road. The maximum width of spray under full pressure is 60 ft.
The utility of the outfit is enhanced because the tank is demountable and intercltangeable with a refuse-collection body, so •that, if there be not sufficient work to keep the machine fully employed on gully and cesspit emptying, street washing and spraying, it can readily be converted into a dustcart.