One Hears
3rd September 1937
Page 27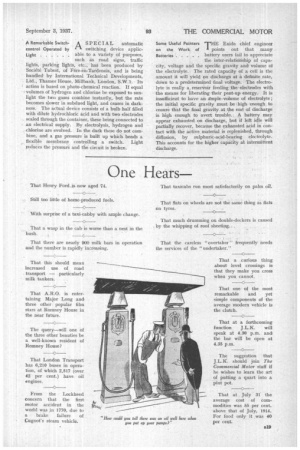 Page 27, 3rd September 1937 —
One Hears
Close
That Henry Ford_is now aged 74.
Still too little of home-produced fuels.
With surprise of a taxi-cabby with ample change.
That a wasp in the cab is worse than a nest in the bush.
That there are nearly 900 milk bars in operation and the number is rapidly increasing.
That this should mean increased use of road transport — . particularly milk tankers.
That A.R.O. is entertaining Major Long and three other popular film stars at Romney House in the near future.
The query—will one of the three other beauties be a well-known resident of Romney House?
That London Transport has 6,210 buses in operation, of which 2,517 (over 42 per cent.) have oil engines.
From the Lockheed concern that the first motor accident in the world was in 1770, due to a brake failure of Cugnot's steam vehicle. That taxicabs run most satisfactorily on palm oil. That flats on wheels are not the same thing as flats on tyres.
That much drumming on double-deckers is caused by the whipping of roof sheeting,,, That the careless " overtaker " frequently needs the services of the "undertaker."
That a curious thing about level crossings is that they make you cross when you cannot.
That one of the most remarkable and yet simple components of the average modern vehicle is the clutch. '
That at a forthcoming function J.L.K. will speak at 4.30 p.m. and the bar will be open at 4.35 p.m.
The suggestion that J.L.K. should join The Commercial Motor staff if he wishes to learn the art of putting a quart into a pint pot.
That at July 31 the average cost of cornmodities was 55 per cent. above that of July, 1914. For food only it was 40 per cent.