AFFAIRS OF A MOTORCAB COMPANY PROMOTER.
3rd September 1908
Page 8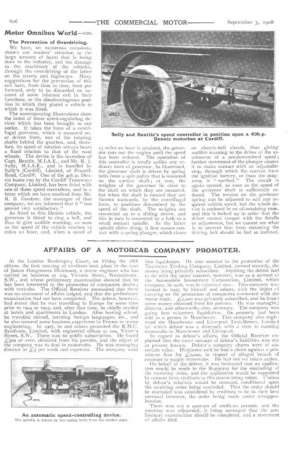 Page 8, 3rd September 1908 —
AFFAIRS OF A MOTORCAB COMPANY PROMOTER.
Close
At the London Bankruptcy Court, on Friday the 2Sth ultimo, the first meeting of creditors took place in the case of James Hargreaves Dickinson, a motor engineer who has carried on business at io9, Victoria Street, Westminster, S.W., and whose preliminary examination showed that he has been interested in the promotion of companies dealin e with taxicabs. The Official Receiver announced that there was no statement of affairs lodged, and that the preliminary examination had not been completed. The debtor, however, had stated that he was travelling in Europe for some time prior to 1904 or 1905, and, after that time, he chiefly resided at hotels and apartments in London. After leaving school, he travelled abroad, learning foreign languages, etc., and he also secured some business experience in France in motor engineering. In 1907, he and others promoted the R.M.C. Syndicate, Limited, with registered offices at log, Victor'a Street, S.W. There was no public subscription. He found
5oo or over, obtained from his parents, and the object of the company was to deal in motor-cabs. He was managing director at Zi5 per week and expenses. The company went into liquidation, life also assisted in the promotion of the Taximeter Trading Company, Limited, formed recently, the money being privately subserilyed. i'mything the debtor had [o do withthe latter concern, however, was as a servant .01 the Automobile Investment Corporation, Limited, which company, he said, was in (existence now. This company was [armed in 1907, by himself and others, with the object cf carrying on the promotion of companies connected with the motor trade. .4,2,000 was privately subscribed, and he found seine money obtained from his parents. He was managing director, and afterwards, also, secretary. The company was going into veluntary liquidation. Its property had been sold to a person in Manchester. This company also registered the Manchester and Liverpool Taxi-Meters, Limited of which debtor was a director), with a view to running motorcabs in Manchester and Liverpeol.
In regard to debtor's affairs, the Official Receiver explained that the exact amount of debtor's liabilities was not at present known. Debtor's company shares were of uncertain value. Dickinson said he had a claim against a prominent firm for f:2,000, in respect of alleged breach of contract to supply motorcabs. He had not yet taken action.
On behalf of the debtor, it was intimated that an application would be made to the Registrar for the rescinding of the receiving order, and the application would be supported by consent from creditors to this course being taken. Claims by debtor's relatives would be released, conditional upon the receiving order being rescinded. That the order should be rescinded was considered by creditors to be to their best personal interests, the order being made tinder misapprehension .
There was not a quorum of crediors present, and the meetingwas adjourned, it Icing arranged that the preliminary examination Should be completed, and a statement of affairs filed.