A Busy Centre on the Kentish Coast.
3rd September 1908
Page 2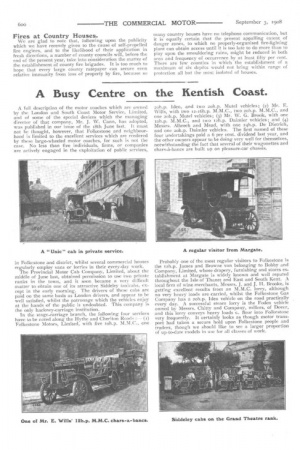 Page 2, 3rd September 1908 —
A Busy Centre on the Kentish Coast.
Close
A full description of the motor coaches which are owned by the London and South Coast Motor Service, Limited, and of some of the special devices which the managing director of that company, Mr. J. W. Cann, has adopted, was .published in our issue of the t8th June last. It must not be thought, however, that Folkestone and neighbourhood is limited to -the excellent services which are rendered by these large-wheeled motor coaches, for such is not the case. No less than five individuals, firms, or companies are actively engaged in the exploitation of public services,
in Folkestone and district, whilst several commercial houses regularly employ vans or lorries in their every-day work.
The Provincial Motor Cab Company, Limited, about the middle of June last, obtained permission to use two private ranks in the town, and it soon became a very difficult matter to obtain one of its attractive Siddeley taxicabs, except in the early morning. The drivers of these cabs are paid on the same basis as London drivers, and appear to be well satisfied, whilst the patronage which the vehicles enjoy at the hands of the public is undoubted. This company is the only hackney-carriage institution. In the stage-carriage branch, the following four services have to be noted along the Hythe and Cheriton Roads (I) Folkestone Motors, Limited, with five toh.p. M.M.C., one zoh.p. Idea, and two zoh.p. Mutel vehicles; (2) Mr. F. Wills, with two 12-16h.p. M.M.C., two zoh.p. M.M.C., and one zoh.p. Mutel vehicles; (3) Mr. W. G. Brook, with one toh.p. M.M.C., and two tzh.p. Daimler vehicles; and (4) Messrs. Albrech and Mead, with one 24h.p. De Dietrich, and one zoh.p. Daimler vehicles. The first named of these four undertakings paid a 6 per cent, dividend last year, and the other owners appear to be doing very well for themselves, notwithstanding the fact that several of their wagonettes and chars-h-bancs are built up on pleasure-car chassis.
Probably one of the most regular visitors to Folkestone is the tzh.p. James and Browne van belonging to Bobby and Company, Limited, whose drapery, furnishing and stares establishment at Margate is widely known and well reputed throughout the Isle of Thanet and East and South Kent. A local firm of wine merchants, Messrs. J. and J. H. Brooke, is getting excellent results from an M.M.C. lorry, although no very heavy loads are carried, whilst the Folkestone Gas Company has a zoh.p. Idea vehicle on the road practically every day. A successful steam lorry is the Foden vehicle owned by Messrs. Chitty and Company, millers, of Dover, and this lorry conveys heavy loads c. flour into Folkestone very frequently. It certainly looks as though motor transport had taken a secure hold upon Folkestone people and traders, though we should like to see a larger proportion of up-to-date models in use for all classes of work.