The Problem of Traffic Congestion.
3rd October 1922
Page 13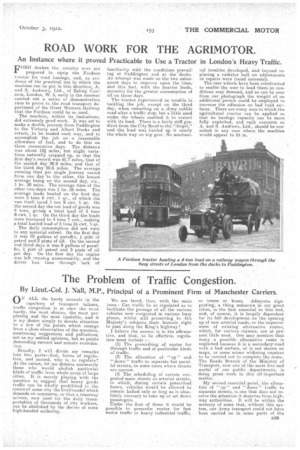 Page 13, 3rd October 1922 —
The Problem of Traffic Congestion.
Close
Keywords :
Transport
,
Land Transport
,
Road Transport
,
Road Safety
,
Types Of Roads
,
Traffic Law
,
Sustainable Transport
,
Traffic Congestion
,
Traffic
,
Electronic Road Pricing
,
Road
,
Highway
,
Environment
By Lieut.-Col. J. Nall, M.P., Principal of a Prominent Firm of Manchester Carriers.
OF ALL the hardy annuals in the repertory of transport talkers, traffic congestion is at once the most hardy, the most elusive, the most perplexing and the most insoluble, and it is my desire simply to devote attention to a few of the points which emerge from a close observation of the question, mentioning suggestions and palliatives, not as my settled opinions, but as points demanding.earnest and minute examination.
Broadly, I will divide my remarks into two parts—first, forms of regulation, and Second, who is to regulate? At the outset, let me dismiss summarily those who would abolish particular kinds of traffic from whole areas of large cities. It is merely playing with the question to suggest that heavy goads traffic can be wholly prohibited in the centre of some city the livelihoodof which depends on commerce, or that a tramway service, now used for the daily transportation of thousands of city workers, can be abolished by the decree of some high-handed authority. We are faced, then, with the main issue : Can traffic he so regulated as to facilitate the passage of all the various vehicles now congested in various busy places, whilst still preserving to His Majesty's subjects their historic right to paw along the King's highway ?
I believe the answer is in the affirmative, and that, to be effective, regulation must include ;-- (1) The prescribing of routes for through traffic and of particular kinds of traffic.
(2) The allocation of " up " and " down" traffic to separate but parallel streets, in some cases where streets are narrow.
(3) The scheduling of certain con gested main streets as arterial streets, in which, during certain prescribed hours, vehicles would he allowed to remain halted only so long as is absolutely necesary to take up or set down passengers.
Under the first of these it would be possible to prescribe routes for fast motor traffic or heavy industrial traffic, or trams or buses. Adequate signposting', a thing unknown in our great cities, is the first essential to this end, and, of course, it is largely dependent for its full development on the opening up of new arterial roads, or the improve
merit of existing alternative routes, which, for various reasons, are at present little used. One may mention that Many a possible alternative route is neglected because it is a secondary road with a bad surface, or is not shown on maps, or some minor widening requires to he carried out to complete the route. The Roads Branch of the Ministry of Transport, now one of the most live and useful of our puhlie departments, is doing great work in this all-important matter.
My second essential point, the allocation of " up " and " down " traffic to separate streets, is one that does not receive the attention it deserves from highway authorities. It will be within the memory of some that, without this system, our Army transport could not have been carried on in some parts of the