VOSA issues more than £7.3m in penalties over two years
3rd November 2011
Page 7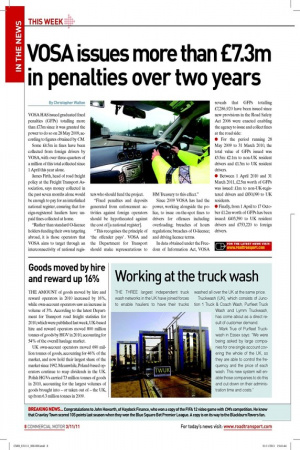 Page 7, 3rd November 2011 —
VOSA issues more than £7.3m in penalties over two years
Close
By Christopher Walton VOSA HAS issued graduated ixed penalties (GFPs) totalling more than £7.3m since it was granted the power to do so on 28 May 2009, according to igures obtained by CM.
Some £4.5m in ines have been collected from foreign drivers by VOSA, with over three-quarters of a million of this total collected since 1 April this year alone.
James Firth, head of road freight policy at the Freight Transport Association, says money collected in the past seven months alone would be enough to pay for an interlinked national register, ensuring that foreign-registered hauliers have unpaid ines collected at home.
"Rather than standard O-licence holders funding their own targeting abroad, it is those operators that VOSA aims to target through an interconnectivity of national regis
ters who should fund the project.
"Fixed penalties and deposits generated from enforcement activities against foreign operators should be hypothecated against the cost of [a national register].
"This recognises the principle of 'the offender pays' . VOSA and the Department for Transport should make representations to HM Treasury to this effect." Since 2009 VOSA has had the power, working alongside the police, to issue on-the-spot ines to drivers for offences including: overloading; breaches of hours regulations; breaches of O-licence; and driving licence terms.
In data obtained under the Freedom of Information Act, VOSA reveals that GFPs totalling £7,286,920 have been issued since new provisions in the Road Safety Act 2006 were enacted enabling the agency to issue and collect ines at the road side: • For the period running 28 May 2009 to 31 March 2010, the total value of GFPs issued was £3.5m: £2.1m to non-UK resident drivers and £1.3m to UK resident drivers.
• Between 1 April 2010 and 31 March 2011, £2.5m worth of GFPs was issued: £1m to non-UK-registered drivers and £830,090 to UK residents.
• Finally, from 1 April to 17 October £1.2m worth of GFPs has been issued: £403,390 to UK resident drivers and £753,220 to foreign drivers.
FOR THE LATEST NEWS VISIT:
www.roadtransport.com