FTA ups the pressure on EC to stop 4m trailer height limit
3rd November 2011
Page 6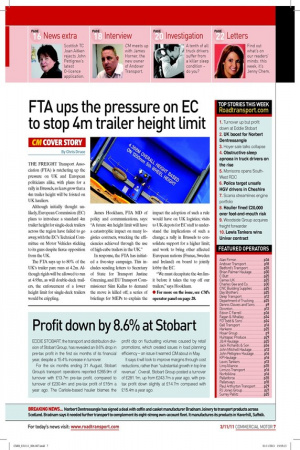 Page 6, 3rd November 2011 —
FTA ups the pressure on EC to stop 4m trailer height limit
Close
By Chris Druce THE FREIGHT Transport Association (FTA) is ratcheting up the pressure on UK and European politicians alike, with plans for a rally in Brussels, as fears grow that a 4m trailer height will be foisted on UK hauliers.
Although initially thought unlikely, European Commission (EC) plans to introduce a standard 4m trailer height for single-deck trailers across the region have failed to go away, with the EC's Technical Committee on Motor Vehicles sticking to its guns despite ierce opposition from the UK.
The FTA says up to 80% of the UK's trailer parc runs at 4.2m. Although rigids will be allowed to run at 4.95m, as will double-deck trailers, the enforcement of a lower height limit for single-deck trailers would be crippling. James Hookham, FTA MD of policy and communications, says: "A future 4m height limit will have a catastrophic impact on many logistics contracts, wrecking the eficiencies achieved through the use of high-cube trailers in the UK." In response, the FTA has initiated a ive-step campaign. This includes sending letters to Secretary of State for Transport Justine Greening, and EU Transport Commissioner Siim Kallas to demand the move is killed off; a series of brieings for MEPs to explain the impact the adoption of such a rule would have on UK logistics; visits to UK depots for EC staff to understand the implications of such a change; a rally in Brussels to consolidate support for a higher limit; and work to bring other affected European nations (France, Sweden and Ireland) on board to jointly lobby the EC.
"We must decapitate the 4m limit before it takes the top off our trailers," says Hookham.
• For more on the issue, see CM's operator panel on page 28.