Staying strong
3rd November 2011
Page 42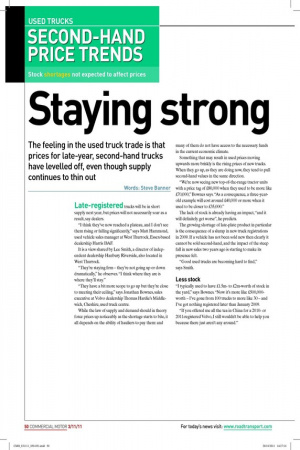 Page 43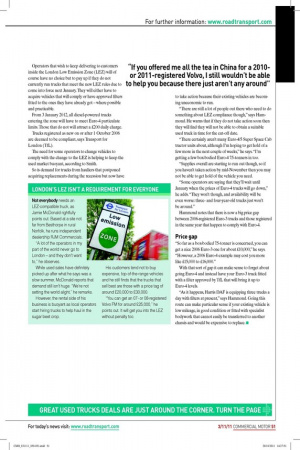 Page 42, 3rd November 2011 —
Staying strong
Close
The feeling in the used truck trade is that prices for late-year, second-hand trucks have levelled off, even though supply continues to thin out
Words: Steve Banner Late-registered trucks will be in short supply next year, but prices will not necessarily soar as a result, say dealers.
"I think they've now reached a plateau, and I don't see them rising or falling signiicantly," says Matt Hammond, used vehicle sales manager at West Thurrock, Essex-based dealership Harris DAF.
It is a view shared by Lee Smith, a director of independent dealership Hanbury Riverside, also located in West Thurrock.
"They're staying irm – they're not going up or down dramatically," he observes. "I think where they are is where they'll stay." "They have a bit more scope to go up but they're close to meeting their ceiling," says Jonathan Bownes, sales executive at Volvo dealership Thomas Hardie's Middlewich, Cheshire, used truck centre.
While the law of supply and demand should in theory force prices up noticeably as the shortage starts to bite, it all depends on the ability of hauliers to pay them: and many of them do not have access to the necessary funds in the current economic climate.
Something that may result in used prices moving upwards more briskly is the rising prices of new trucks. When they go up, as they are doing now, they tend to pull second-hand values in the same direction.
"We're now seeing new top-of-the-range tractor units with a price tag of £80,000 when they used to be more like £70,000," Bownes says. "As a consequence, a three-yearold example will cost around £40,000 or more when it used to be closer to £35,000." The lack of stock is already having an impact, "and it will deinitely get worse" , he predicts.
The growing shortage of late-plate product in particular is the consequence of a slump in new truck registrations in 2009. If a vehicle has not been sold new then clearly it cannot be sold second-hand, and the impact of the steep fall in new sales two years ago is starting to make its presence felt.
"Good used trucks are becoming hard to ind," says Smith.
Less stock
"I typically used to have £1.5mto £2m-worth of stock in the yard," says Bownes. "Now it's more like £500,000worth – I've gone from 100 trucks to more like 30 – and I've got nothing registered later than January 2009.
"If you offered me all the tea in China for a 2010or 2011-registered Volvo, I still wouldn't be able to help you because there just aren't any around." Operators that wish to keep delivering to customers inside the London Low Emission Zone (LEZ) will of course have no choice but to pay up if they do not currently run trucks that meet the new LEZ rules due to come into force next January. They will either have to acquire vehicles that will comply or have approved ilters itted to the ones they have already got – where possible and practicable.
From 3 January 2012, all diesel-powered trucks entering the zone will have to meet Euro-4 particulate limits. Those that do not will attract a £200 daily charge.
Trucks registered as new on or after 1 October 2006 are deemed to be compliant, says Transport for London (TfL).
The need for some operators to change vehicles to comply with the change to the LEZ is helping to keep the used market buoyant, according to Smith.
So is demand for trucks from hauliers that postponed acquiring replacements during the recession but now have to take action because their existing vehicles are becoming uneconomic to run.
"There are still a lot of people out there who need to do something about LEZ compliance though," says Hammond. He warns that if they do not take action soon then they will ind they will not be able to obtain a suitable used truck in time for the cut-off date.
"There certainly aren't many Euro-4/5 Super Space Cab tractor units about, although I'm hoping to get hold of a few more in the next couple of weeks," he says. "I'm getting a few box-bodied Euro-4 7.5-tonners in too.
"Supplies overall are starting to run out though, so if you haven't taken action by mid-November then you may not be able to get hold of the vehicle you need.
"Some operators are saying that they'll wait until January when the prices of Euro-4 trucks will go down," he adds. "They won't though, and availability will be even worse: threeand four-year-old trucks just won't be around." Hammond notes that there is now a big price gap between 2006-registered Euro-3 trucks and those registered in the same year that happen to comply with Euro-4.
"So far as a box-bodied 7.5-tonner is concerned, you can get a nice 2006 Euro-3 one for about £10,000," he says. "However, a 2006 Euro-4 example may cost you more like £15,000 to £16,000." With that sort of gap it can make sense to forget about going Euro-4 and instead have your Euro-3 truck itted with a ilter approved by TfL that will bring it up to Euro-4 levels.
"As it happens, Harris DAF is equipping three trucks a day with ilters at present," says Hammond. Going this route can make particular sense if your existing vehicle is low mileage, in good condition or itted with specialist bodywork that cannot easily be transferred to another chassis and would be expensive to replace. ■