Kevin Swallow
3rd November 2011
Page 37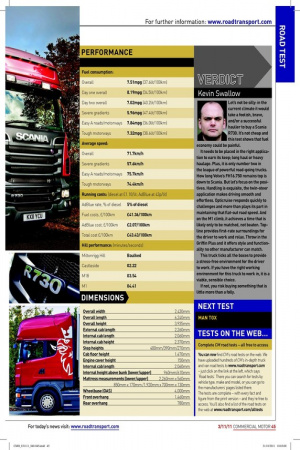 Page 37, 3rd November 2011 —
Kevin Swallow
Close
Let's not be silly: in the current climate it would take a foolish, brave, and/or a successful haulier to buy a Scania R730. It's not cheap and this test shows that fuel economy could be painful.
It needs to be placed in the right application to earn its keep; long haul or heavy haulage. Plus, it is only number two in the league of powerful road-going trucks. How long Volvo's FH16.750 remains top is down to Scania. But let's focus on the positives. Handling is exquisite, the twin-steer application makes driving smooth and effortless. Opticruise responds quickly to challenges and more than plays its part in maintaining that flat-out road speed. And on the M1 climb, it achieves a time that is likely only to be matched, not beaten. Topline provides first-rate surroundings for the driver to work and relax. Throw in the Griffin Plus and it offers style and functionality no other manufacturer can match.
This truck ticks all the boxes to provide a stress-free environment for the driver to work. If you have the right working environment for this truck to work in, it is a viable, sensible choice.
If not, you risk buying something that is little more than a folly.