Fagan & Whalley has experienced plenty of ups and downs
3rd November 2011
Page 27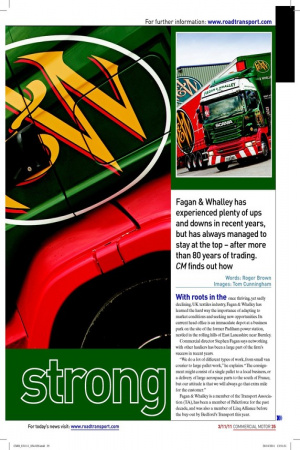 Page 28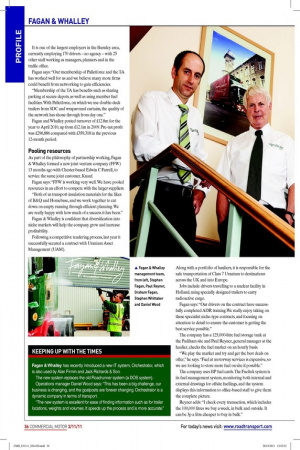 Page 29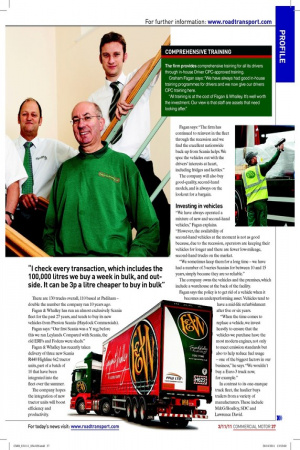 Page 30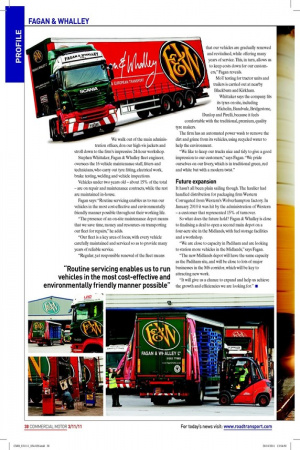 Page 27, 3rd November 2011 —
Fagan & Whalley has experienced plenty of ups and downs
Close
in recent years, but has always managed to stay at the top – after more than 80 years of trading. CM finds out how
Words: Roger Brown Images: Tom Cunningham With roots in the once thriving, yet sadly
declining, LJK textiles industry, Fagan & Whalley has learned the hard way the importance of adapting to market conditions and seeking new opportunities. Its current head ofice is an immaculate depot at a business park on the site of the former Padiham power station, nestled in the rolling hills of East Lancashire near Burnley.
Commercial director Stephen Fagan says networking with other hauliers has been a large part of the irm's success in recent years.
"We do a lot of different types of work, from small van courier to large pallet work," he explains. "The consignment might consist of a single pallet to a local business, or a delivery of large aerospace parts to the south of France, but our attitude is that we will always go that extra mile for the customer." Fagan & Whalley is a member of the Transport Association (TA), has been a member of Palletforce for the past decade, and was also a member of Linq Alliance before the buy-out by Bedford's Transport this year. It is one of the largest employers in the Burnley area, currently employing 170 drivers – no agency – with 25 other staff working as managers, planners and in the trafic ofice.
Fagan says: "Our membership of Palletforce and the TA has worked well for us and we believe many more irms could beneit from networking to gain eficiencies.
"Membership of the TA has beneits such as sharing parking at secure depots, as well as using member fuel facilities. With Palletforce, on which we use double-deck trailers from SDC and wraparound curtains, the quality of the network has shone through from day one." Fagan and Whalley posted turnover of £12.8m for the year to April 2010, up from £12.1m in 2009. Pre-tax proit was £296,886 compared with £359,318 in the previous 12-month period.
Pooling resources
As part of the philosophy of partnership working, Fagan & Whalley formed a new joint venture company (FFW) 13 months ago with Chester-based Edwin C Farrell, to service the same joint customer, Knauf.
Fagan says: "FFW is working very well. We have pooled resources in an effort to compete with the larger suppliers.
"Both of us transport insulation materials for the likes of B&Q and Homebase, and we work together to cut down on empty running through eficient planning. We are really happy with how much of a success it has been." Fagan & Whalley is conident that diversiication into niche markets will help the company grow and increase proitability.
Following a competitive tendering process, last year it successfully secured a contract with Uranium Asset Management (UAM). Along with a portfolio of hauliers, it is responsible for the safe transportation of Class 7 Uranium to destinations across the UK and into Europe.
Jobs include drivers travelling to a nuclear facility in Holland, using specially designed trailers to carry radioactive cargo.
Fagan says: "Our drivers on the contract have successfully completed ADR training.We really enjoy taking on these specialist niche-type contracts, and focusing on attention to detail to ensure the customer is getting the best service possible." The company has a 125,000-litre fuel storage tank at the Padiham site and Paul Reyner, general manager at the haulier, checks the fuel market on an hourly basis.
"We play the market and try and get the best deals on offer," he says. "Fuel at motorway services is expensive, so we are looking to store more fuel on site if possible." The company uses BP fuel cards. The Fueltek system is its fuel management system, monitoring both internal and external drawings for offsite fuellings, and the system displays this information to ofice-based staff to give them the complete picture.
Reyner adds: "I check every transaction, which includes the 100,000 litres we buy a week, in bulk and outside. It can be 3p a litre cheaper to buy in bulk." There are 130 trucks overall, 110 based at Padiham – double the number the company ran 10 years ago.
Fagan & Whalley has run an almost exclusively Scania leet for the past 27 years, and tends to buy its new vehicles from Preston Scania (Haydock Commercials).
Fagan says: "Our irst Scania was a Y reg; before this we ran Leylands. Compared with Scania, the old ERFs and Fodens were sheds." Fagan & Whalley has recently taken delivery of three new Scania R440 Highline 6x2 tractor units, part of a batch of 10 that have been integrated into the leet over the summer.
The company hopes the integration of new tractor units will boost eficiency and productivity. Fagan says: "The irm has continued to reinvest in the leet through the recession and we ind the excellent nationwide back-up from Scania helps. We spec the vehicles out with the drivers' interests at heart, including fridges and kettles." The company will also buy good-quality, second-hand models, and is always on the lookout for a bargain.
Investing in vehicles
"We have always operated a mixture of new and second-hand vehicles," Fagan explains. "However, the availability of second-hand vehicles at the moment is not as good because, due to the recession, operators are keeping their vehicles for longer and there are fewer low-mileage, second-hand trucks on the market.
"We sometimes keep them for a long time – we have had a number of 3-series Scanias for between 10 and 15 years, simply because they are so reliable." The company owns the vehicles and the premises, which include a warehouse at the back of the facility.
Fagan says the policy is to get rid of a vehicle when it becomes an underperforming asset. Vehicles tend to have a mid-life refurbishment after ive or six years.
"When the time comes to replace a vehicle, we invest heavily to ensure that the vehicles we purchase have the most modern engines, not only to meet emission standards but also to help reduce fuel usage – one of the biggest factors in our business," he says. "We wouldn't buy a Euro-3 truck now, for example." In contrast to its one-marque truck leet, the haulier buys trailers from a variety of manufacturers. These include M&G/Boalloy, SDC and Lawrence David. We walk out of the main adminis tration ofices, don our high-vis jackets and stroll down to the irm's impressive 24-hour workshop.
Stephen Whittaker, Fagan & Whalley leet engineer, oversees the 16 vehicle maintenance staff, itters and technicians, who carry out tyre itting, electrical work, brake testing, welding and vehicle inspections.
Vehicles under two years old – about 15% of the total – are on repair and maintenance contracts, while the rest are maintained in-house.
Fagan says: "Routine servicing enables us to run our vehicles in the most cost-effective and environmentally friendly manner possible throughout their working life.
"The presence of an on-site maintenance depot means that we save time, money and resources on transporting our leet for repairs," he adds.
"Our leet is a key area of focus, with every vehicle carefully maintained and serviced so as to provide many years of reliable service.
"Regular, yet responsible renewal of the leet means that our vehicles are gradually renewed and revitalised, while offering many years of service. This, in turn, allows us to keep costs down for our customers," Fagan reveals.
MoT testing for tractor units and trailers is carried out at nearby Blackburn and Kirkham.
Whittaker says the company its its tyres on site, including Michelin, Bandvulc, Bridgestone, Dunlop and Pirelli, because it feels comfortable with the traditional, premium, quality tyre makers.
The irm has an automated power wash to remove the dirt and grime from its vehicles, using recycled water to help the environment.
"We like to keep our trucks nice and tidy to give a good impression to our customers," says Fagan. "We pride ourselves on our livery, which is in traditional green, red and white but with a modern twist."
Future expansion
It hasn't all been plain sailing though. The haulier had handled distribution for packaging irm Western Corrugated from Western's Wolverhampton factory. In January 2010 it was hit by the administration of Western – a customer that represented 15% of turnover.
So what does the future hold? Fagan & Whalley is close to inalising a deal to open a second main depot on a four-acre site in the Midlands, with fuel storage facilities and a workshop.
"We are close to capacity in Padiham and are looking to station more vehicles in the Midlands," says Fagan.
"The new Midlands depot will have the same capacity as the Padiham site, and will be close to lots of major businesses in the M6 corridor, which will be key to attracting new work.
"It will give us a chance to expand and help us achieve the growth and eficiencies we are looking for." ■