tales
3rd November 2011
Page 23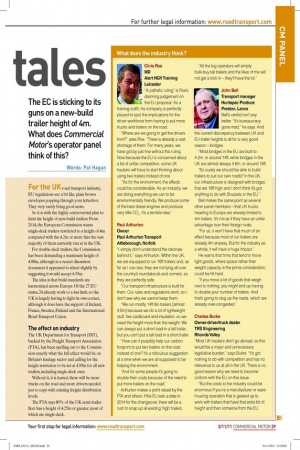 Page 24
Page 23, 3rd November 2011 —
tales
Close
The EC is sticking to its guns on a new-build trailer height of 4m. What does Commercial Motor's operator panel think of this?
Words: Pat Hagan For the UK road transport industry, EU regulations are a bit like plain brown envelopes popping through your letterbox. They very rarely bring good news.
So it is with the highly controversial plan to limit the height of new-build trailers. From 2014, the European Commission wants single-deck trailers restricted to a height of 4m compared with the 4.2m or more that the vast majority of them currently run at in the UK.
For double-deck trailers, the Commission has been demanding a maximum height of 4.88m, although in a recent discussion document it appeared to relent slightly by suggesting it would accept 4.95m.
The idea is that build standards are harmonised across Europe. Of the 27 EU states, 24 already work to a 4m limit, so the UK is largely having to ight its own corner, although it does have the support of Ireland, France, Sweden, Finland and the International Road Transport Union.
The effect on industry
The UK Department for Transport (DfT), backed by the Freight Transport Association (FTA), has been spelling out to the Commission exactly what the full effect would be on Britain's haulage sector and calling for the height restriction to be set at 4.95m for all new trailers, including single-deck ones.
Without it, it is feared, there will be more trucks on the road and more drivers needed just to cope with existing freight distribution levels.
The FTA says 80% of the UK semi-trailer leet has a height of 4.25m or greater, most of which are single-deck. It has calculated that a 4m limit would, at best, increase the annual number of kilometres travelled by trucks by 400 million and pump an extra 300,000 tonnes of carbon emissions into the atmosphere.
The worst-case scenario, it warns, is an increase in kilometres travelled of 1,800 million and extra emissions in the region of 1.5 million tonnes. But it's not just trailers that would be affected. The FTA predicts warehouse conigurations will have to change because of new docking heights, and some manufactured products would have to be redesigned or even discontinued.
Predictably, the EU proposal struggles to ind much, in fact any, support among members of CM's operator panel. They see it as the ultimate example of how the EU bureaucratic machine tends to crush all the common sense that lies in its path.
The consequences for the UK industry of this desire to seek harmonisation would be enormous, members feel, with operators incurring unnecessary and potentially crippling expense just to meet the demands of a Brussels tick sheet. n