LETTER OF THE WEEK
3rd November 2011
Page 17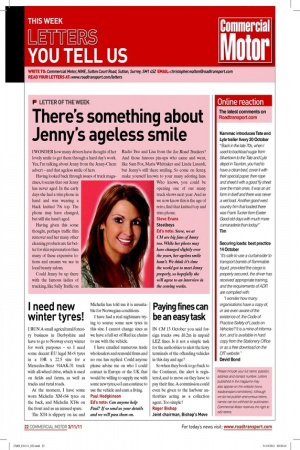 Page 17, 3rd November 2011 —
LETTER OF THE WEEK
Close
There's something about Jenny's ageless smile
I WONDER how many drivers have thought of her lovely smile to get them through a hard day's work. Yes, I'm talking about Jenny from the Jenny-Chem advert – and that ageless smile of hers.
Having looked back through issues of truck magazines, it seems that our Jenny has never aged. In the early days she had a trim phone in hand and was wearing a black knitted 70s top. The phone may have changed, but still she hasn't aged.
Having given this some thought, perhaps trafic ilm remover and her many other cleaning products are far better for skin rejuvenation than many of these expensive lotions and creams we see in local beauty salons.
Could Jenny be up there with the famous ladies of trucking, like Sally Trafic on Radio Two and Lisa from the Ice Road Truckers? And those famous pin-ups who came and went, like Sam Fox, Maria Whittaker and Linda Lusardi, but Jenny's still there smiling. So come on Jenny, make yourself known to your many adoring fans. Who knows, you could be opening one of our many truck shows next year. And as we now know this is the age of retro, ind that knitted top and trim phone.
Steve Evans Steelboys
Ed's note: Steve, we at CM are big fans of Jenny too. While her photo may have changed slightly over the years, her ageless smile hasn't. We think it's time the world got to meet Jenny properly, so hopefully she will agree to an interview in the coming weeks.