THE PETTIGREW STORY SO FAR
3rd November 2011
Page 12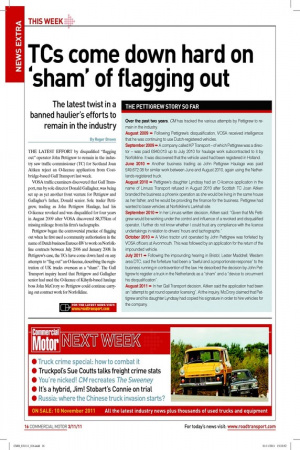 Page 12, 3rd November 2011 —
THE PETTIGREW STORY SO FAR
Close
Over the past two years, CM has tracked the various attempts by Pettigrew to remain in the industry.
August 2009 -* Following Pettigrew's disqualification, VOSA received intelligence that he was continuing to use Dutch-registered vehicles.
September 2009 -* A company called KP Transport – of which Pettigrew was a director – was paid £940,013 up to July 2010 for haulage work subcontracted to it by Norfolkline. It was discovered that the vehicle used had been registered in Holland. June 2010 -* Another business trading as John Pettigrew Haulage was paid £49,672.08 for similar work between June and August 2010, again using the Netherlands-registered truck.
August 2010 -* Pettigrew's daughter Lyndsay had an O-licence application in the name of Linruss Transport refused in August 2010 after Scottish TC Joan Aitken branded the business a phoenix operation as she would be living in the same house as her father, and he would be providing the finance for the business. Pettigrew had wanted to base vehicles at Norfolkline's Larkhall site.
September 2010 -* In her Linruss written decision, Aitken said: "Given that Ms Pettigrew would be working under the control and influence of a revoked and disqualified operator, I further do not know whether I could trust any compliance with the licence undertakings in relation to drivers' hours and tachographs." October 2010 -* A Volvo tractor unit operated by John Pettigrew was forfeited by VOSA officers at Avonmouth. This was followed by an application for the return of the impounded vehicle.
July 2011 -* Following the impounding hearing in Bristol, Lester Maddrell, Western area DTC, said the forfeiture had been a "lawful and a proportionate response" to the business running in contravention of the law. He described the decision by John Pettigrew to register a truck in the Netherlands as a "sham" and a "device to circumvent his disqualification".
August 2011 -* In her Gall Transport decision, Aitken said the application had been an "attempt to get round operator licensing". At the inquiry, McCrory claimed that Pettigrew and his daughter Lyndsay had copied his signature in order to hire vehicles for the company.