Scania rationalises engine line-up to just two newer basic variants
3rd November 2011
Page 10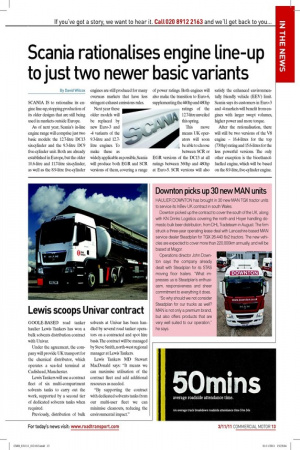 Page 10, 3rd November 2011 —
Scania rationalises engine line-up to just two newer basic variants
Close
By David Wilcox SCANIA IS to rationalise its engine line-up, stopping production of its older designs that are still being used in markets outside Europe.
As of next year, Scania's in-line engine range will comprise just two basic models: the 12.7-litre DC13 six-cylinder and the 9.3-litre DC9 ive-cylinder unit. Both are already established in Europe, but the older 10.6-litre and 11.7-litre six-cylinder, as well as the 8.9-litre ive-cylinder engines are still produced for many overseas markets that have less stringent exhaust emissions rules.
Next year these older models will be replaced by new Euro-3 and -4 variants of the 9.3-litre and 12.7litre engines. To make these as widely applicable as possible, Scania will produce both EGR and SCR versions of them, covering a range of power ratings. Both engines will also make the transition to Euro-6, supplementing the 440hp and 480hp ratings of the 12.7-litre unveiled this spring.
This move means UK operators will soon be able to choose between SCR or EGR versions of the DC13 at all ratings between 360hp and 480hp at Euro-5. SCR versions will also satisfy the enhanced environmentally friendly vehicle (EEV) limit. Scania says its customers in Euro-3 and -4 markets will beneit from engines with larger swept volumes, higher power and more torque.
After the rationalisation, there will still be two versions of the V8 engine – 16.4-litres for the top (730hp) rating and 15.6-litres for the less powerful versions. The only other exception is the bioethanolfuelled engine, which will be based on the 8.9-litre, ive-cylinder engine.