OPINIONS and
3rd November 1944
Page 31
Page 32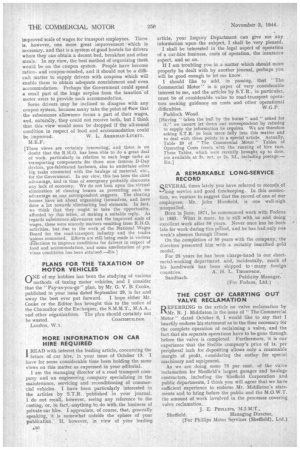 Page 31, 3rd November 1944 —
OPINIONS and
Close
UERIES
PROBLEM OF CONTROL OF USED-VEHICLE PRICES ANY reader of "The Commercial Motor" Who may .be thinking of buying a used car will be puzzled by Mr. Noel-Baker's statement in the House of Commons that the lVlinister of War Transport is " by no means convinced '• that a control of prices would lower the• present cost..
Does not price control keep down the cost of furniture, apples, eggs, toys, utility socks aid a, host of other commodities? If it does not, why have it?
• The Minister of War Transport may argue that he can control the price at which the motor dealer sells, • but that the public will sell at a higher price to one another. The Motor Agents' Association agrees with him and asks him to control both the motor dealer's price and the price at which a man with a car can offer it to his next-doer neighbour. The motor dealer's own price depends upon what the man with the car wants for it, plus the dealer's commission.
If it be possible to control a farmer who wants to sell eggs, why should it be impossible to control a motorist who wants to sell a car? Even if he dodges control, he would do so, as the farmer may do, at his own risk: the general result would certainly be to make cars cheaper.
Bromley. F. Brcicem..L.
N.F.U. VIEWS ON ROADS AND THE FARMER
THE article, "Roads and the Farmer," by Mr. J. S.
Neave, in the issue of "The Commercial Motor" dated October 20, will, I am sure, be welcomed by the majority of farmers, although most of it is based on " hopes" rather than definite Government promises. The successful results of the farmers' efforts to feed the population during the war are largely due, as Mr. Neave suggests, to the skill and initiative of the individual farmer.
Your contributor's reference to soft fen roads is a very apt one, and I am pleased to notice that he draws attention to the injustice which is being meted out to certain farmers, who are threatened with being saddled not only .with the cost of construction, but with the cost of maintenance, notwithstanding that the majority of the improved roads will he used by all and sundry and are of benefit not only to the adjoining owners and occupiers but to the district generally and to the Nation at large. Although the farmers, under an Act of Parliament, have had to pay for the building of concrete roads, they may not " gate " such roads or treat them as their property, but must leave them open to all who may care to use them.
Farmers are not objecting to paying for the cost of construction, but point out the injustice of being compelled to maintain the roads for ever while others help to wear them out.
One local authority, realizing the justice of the farmers' case, has taken over the maintenance of these concrete fen roads, but although powers exist whereby they may do so, the other county councils refuse. For some time past the control of roads, other than purely private roads, has been vested in the Ministry of War Transport or county councils. Drainage boards have now been asked to take over the control and maintenance of these fen roads, thus bringing into being another highway authority consisting of people without any experience in road construction or control, and who will have to contract out the work ul maintenance to the county councils. This creation of another highway authority can be considered only as a retrograde step and a. reversion to the days when parish and district councils had control of roads.
Agriculture has, unfortunately, and especially in the pre-war days, been the " Cinderella " industry in this country, and it is to be hoped that Mr. Neave, or the British Road Federation, which he represents, will prove to be a. Prince Charming who will do much to help Cinderella to the prosperity she deserves.
Adequate roads and reasonable transport are not among the least of the farmers' requirements, and fair play for farmers in the fen districts will be one means by which the urban population in the counties concerned can show their appreciation for what the farmer has done for them during the war years.
F. L. SABATINI, Transport Officer
London, W.C.1. (For National Farmers' Union).
CAN THE THREE-PEDAL PROBLEM BE SOLVED?
WITH reference' to suggestions for reducing the numYV her of 'controls on commercial vehicles, what could be more siMple than the two controls used on many• motorcycles—clutch on the left and a twist-grip accelerator on the right? .
If it be truly desired to reduce the number of pedals on the lorry or car, surely an adaptation of this principle would be an easy way out? A twist-grip device on, or close to, the wheel would be simple to achieve, and would remove the need for one pedal. A determined designer might *ell overcome the difficulty associated with positioning the clutch control, so that it could be operated by hand.
Some of the solutions put forward to solve the threepedal problem, if it be such, remind rue of the eminent mathematician who could never multiplytwo by two and make it four; be filled reams of paper and always dbtained the answer 3.§.
Best wishes to your paper and may it long continue its good work_ F. H. Haar.ty. High Wycombe.
EX-DRIVER WHO NOW PRAISES THE R.H.O.
gOME time ago I wrote to you expressing my views t–,on .the future of the road-haulage industry if it remained under Government control. Being of an open mind, however, and having studied the all-round effects of the M.O.W.T. Road Haulage Organization, I am inclined to revise my opinion; in other words, to say that this scheme seems -to be working out fairly well, and has presented certain advantages, such as the elimination-Of clearing houses.
The latter, naturally, have the average Briton's antipathy to control of any form which will curtail . profits. The great objection, \in my opinion, to certain of the clearing houses was the way in which they, were • run. They charged excessive commission on tonnage, employed such iniquitous methods as "Dutch Auctions," and a touting system when offering favourable loads. As a driver, I can vouch for the fact that this touting was a common practice amongst the clerical staff of some of these concerns.
Another good aspect of Government interference is the more favourable subsistence allowances, and the
improved scale of wages for transport employees. There is, however, one more great improvement which is necessary, and that is a system of good hostels for drivers where they can obtain a decent bed, breakfast and other meals. In my.view, the best method of organizing thesb would be on the coupon system. People have become rationand coupon-minded, and it should not be a difficult matter to supply drivers with coupons which will enable them to obtain adequate nourishment and even accommodation. Perhaps the Government could spend a small part of the huge surplus from the taxation -of motor users to provide such accommodation.
Some drivers may be inclined to disagree with any coupon system, because many take the point of thew that the subsistence allowance forms a part of their wages, and, naturally, they could not receive both, but I think that this. view would soon be dropped if the all-round condition in respect of food and accommodation could be improved. W. L. AKERMAN-LINETT. M.E.F.
[These views are certainly interesting, and there is no doubt that the R.H.O. has been able to do a great deal of work, particularly in relation to such huge tasks as transporting components for those now famous D-Day devices, pre-fabricated harbours, also to undertake other big tasks connected with the haulage of material, etc., for the Government. In our view, this has been the chief advantage, and in time of emergency probably discounts any lack of economy. We do not look upon the, virtual elimination of clearing houses as presenting such an advantage as our correspondent suggests. The clearing houses have set about organizing themselves, and have done a lot towards eliminating bad elements. In fact, we think that they ought to take the opportunity, afforded by this letter, of making a suitable reply. As regards subsistence allowances and the improved scale of wages, these were scarcely matters resulting from R.H.O. activities, but due to the work of the National Wages Board for the road-transport industry and the trades 'unions concerned. Efforts are still being made in various diFections to improve conditions for drivers in respect of food and accOmmodation, and some amelioration of previous conditions has been attained.--..E .
PLANS FOR THE TAXATION OF MOTOR VEHICLES
nNE of my hobbies has been the studying of various
methods of taxing motor vehicles, and I consider that the " Pay-as-you-go " plan, by Mr. G. V. B. Cooke, published in your issue dated September 29, is far and away the best ever put forward. I hope either Mr. Cooke or the Editor has brought this to the notice of the Chancellor of the Exchequer, the S.M.M.T.,
and other organizations. The plan should certainly not be wasted. COACHBUILDER. London, W.1.
MORE INFORMATION ON CAR HIRE REQUIRED
1 READ with interest the leading article, concerning the I future of car hire, in your issue of October 11 I have for some considerable time been holding the same views on this matter as expressed in your editorial.
I am the managing director of a road transport company and an engineering company specializing in the maintenance, servicing and reconditioning of commercial vehicles. I have been particularly interested in the articles by S.T.R. published n your journal. I do not recall, however, seeing any reference to the costing, or, in fact, anything to do with the business of private-ear hire. I appreciate, of course, that, generally speaking, it is somewhat outside the sphere of your publication. If, however, in view of your leading
article, your Inquiry Department can give me any information upon the subject, I shall be very pleased.
I shall be interested in the legal aspect of operation of a car-hire business, costs of operation, the insurance aspect, and so on.
If I am troubling you in a matter which should more properly be dealt with by another journal, perhaps you will be good enough to let me know.
I should like to add, in passing, that "The Commercial Motor" is a paper of very considerable interest to me, and the articles by S.T.R., in particular, must be of considerable. value to road-transport operators seeking guidance on costs and other operational difficulties. W.G.P. Paddock Wood.
[Having "taken the bull by the horns" and "asked for it," we cannot let down our correspondent by refusing to supply the information he requires. We are therefore asking S.T.R. to look more fully into this matter and to deal with these points in a special article. Actually, Table20 of "The Commercial Motor" Tables of Operating Costs treats with the running of hire cars. These Tables, which were recently brought up to date, are available at 2s. net, or 2s. 2d., including postage.— ED.] A REMARKABLE LONG-SERVICE RECORD SEVERAL times lately you' have referred to records of long service and good timekeeping. In this connection, we Venture to suggest that the record of one of our employees, Mr. John Horsfield, is one well-nigh unequalled.
Born in June, 1871, he commenced work with Fodens in 1885. What is more, he is. still with us and doing excellent work after 59 years. Never once has he beets late for work during this pe'riod, and he has had only one week's absence through illness.
On the completion of 50 years with the company, the directors presented him with a suitably inscribed gold medal.
For 25 years he has been charge-hand in our sheetmetal-working department, and, incidentally, much of his handiwork has been shipped to I many foreign
countries. A. H. L. THOMPSON, Sandbach. Publicity Manager.
(For Fodens, Ltd.) THE COST OF CARRYING OUT VALVE RECLAMATION
REFERRING to the article on valve reclamation by Mr. R. J. Middleton in the issue of " The Commercial Motor " dated October 6, I would like to say that I heartily endorse his statement as to the time necessary for the complete operation of reclaiming a valve, and the fact that six separate operations have to be gone through before the valve is completed. Furthermore, it is our experience that the Stellite company's price of Is. per peripheral inch for depositing allows only a reasonable margin of profit, considering the outlay for special machinery and equipment.
As we are doing some 75 per cent, of the valve reclamation for Sheffield's largest garages and haulage contractors, including the Sheffield Corporation and public departments, I think you will agree that we have sufficient experience to endorse Mr. Middleton's statements and to bring before the public and the M.O.W.T. the amount of work involved in the processes covering valve reclamation.
J. E. PHILLIPS, M.I.M:T., Sheffield. Managing Director, (For Phillips Motor Services (Sheffield), Ltd.)