A PLASTIC MAGNETIC INSPECTION LAMP
3rd November 1944
Page 30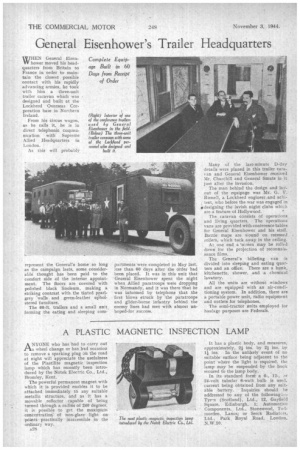 Page 30, 3rd November 1944 —
A PLASTIC MAGNETIC INSPECTION LAMP
Close
ANYONE who has had to carry out a wheel change or has had occasion to remove a sparking plug on the road at night will appreciate the usefulness of the Plastilite magnetic inspection lamp which has recently been introduced by the Notek Electric Co., Ltd., Bromley, Kent.
The powerful permanent magnet with which it is provided enables it to be attached immediately to any suitable metallic structure, and as it has a movable reflector capable of being turned through a radius of 240 degrees, it is possible to get the maximum concentrationof non-glare, light on points practically inaccessible in the ordinary way.
A28 It has a plastic body, and measures, approximately, 21 ins. by 21 ins. by I} ins, In the unlikely event of no suitable surface being adjacent to the point where the light is required, the lamp may be suspended by the hook secured to the lamp body.
In its standard fond. a 6-, 12-, ar 24-volt tubular 6-watt bulb is used, current being obtained from any suitable battery. Inquiries should be addressed to any of the following:— Tyr.s (Scotland), Ltd., 12, Gayfield Square, Edinburgh, 1; Automotive Components, Ltd., Stonewood, Todmorden, Lanes; or Serck Radiators, Ltd., Park Royal Road, London, N.W.10.