Personal Pars
3rd November 1944
Page 23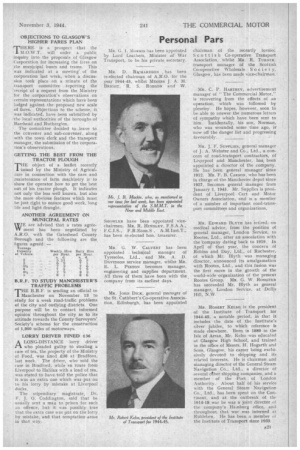 Page 23, 3rd November 1944 —
Personal Pars
Close
MU. G. 1. MORRIS has been appointed by Lord Leathers, Minister of War Transport, to be his private, secretary.
• Ma. D. RIplARDSON , has been re-elected chairman of A.R.O. for the year 1944745, whilst MESSRS J. A. M. BRIGHT, R. S. ROBSON and W.
SHOWLER have been appointed vicechairmen, Me. R. Hoeotev, F.S.A.A., F.C.I.S., F.R.Econ.S , A.M.Inst.T., has been re-elected hon. treasurer.
MR. G. W. CALVERT has been appointed technical manager of Tyresoles, Ltd., and Ma. A. D. DAVIDSON service manager, whilst MR. E. L PIXTON becomes manager, engineering and supplies department. All three of them have been with the company from its earliest days.
Ma. JouN Dicx, general manager of the St. Cuthbert's Co-operative Association, Edinburgh, has been appointed chairman of the recently tormeZ Scottish Co-operative Transport Association, whilst MR. R. TURNER, transport manager of the Scottish Co-operative Wholesale Societ y, Glasgow. has been made vice.chairman.
MR. C. P. HARTREY, advertisement manager of " The Commercial Motor," is recovering from the effects of an operation, which was followed by pleurisy. He hopes, however, soon to be able to answer the numerous letters of sympathy which have been sent to him. Incidentally, his son, Norman, who was wounded some time ago, IS now off the danger list and progressing favourably.
MR. J. F. SUPPLIES, general manager of J. A. Webster and Co., Ltd., a concern of road-transport contractors, of Lixerpool and Manchester, has been appointed a director of the company. He has been general manager since 1912. MR, F. B. CARSON, who has been in charge of the Manchester depot since 1927, becomes general manager from January 1, 1945. Mr. Supplies is president of Liverpool Cart and Motor Owners Association; and is a member of a number of important road-transport committees and organizations,
MR. EDWARD BLYTH has ietired, on medical advice, from the position of general manager, London Service, to Rootes, Ltd., after an association with the 'company dating back to 1919. In April of that year. the concern of Robins and Day, Ltd., of Rochester, of which Mr. Blyth was managing director, announced its amalgamation with Rootes, Ltd., and this fusion was the first move in the growth of the world-wide organization of the present Rootes Group. MR. G. W. ROSSITER has succeeded Mr. Blyth as general manager, London Service, at Donis N.W.
MR. ROBERT KELSO, is the president of the Institute of Transport tor 1944-45, a notable period, in that it includes the date of the Institute's silver jubilee, to which reference is made elsewhere. Born in 1880 in the Isle of Arran, Mr. _Kelso was educated at Glasgow High School, and trained in the office of Messrs. H. Hogarth and Sons, Glasgow, his career being exclusively devotedto shipping and its related interests. He is chairman and Managing director of the General Steam Navigation Co., Ltd., a director ot several other shipping companies, and a member of the Port of London Authority. About half of his service with the General Steam Navigation Co., Ltd., has been spent on the Continent, and at the outbreak of the 1914-18 war he was a joint director of the company's Hamburg office, and throughout that war was interned ai Ruhleben. He has been a member oi the Institute of Transport since 1933.