News of the Week
3rd November 1944
Page 22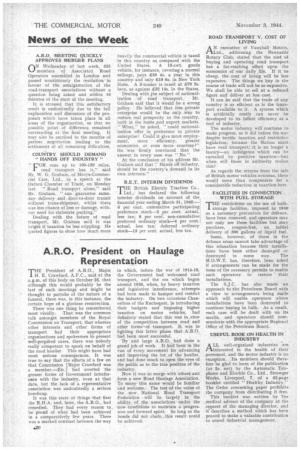 Page 23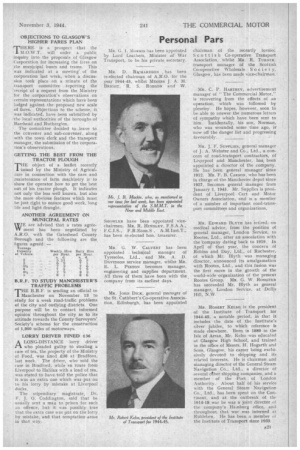 Page 24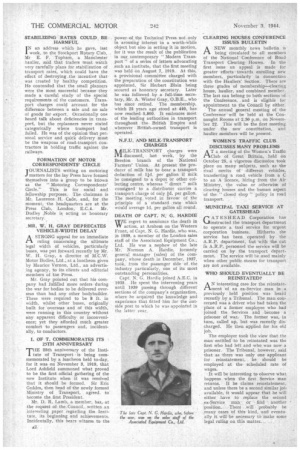 Page 25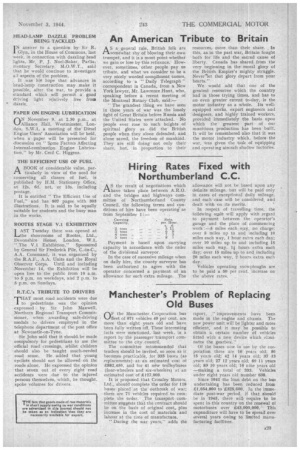 Page 22, 3rd November 1944 —
News of the Week
Close
A.R.O. MEETING QUICKLY APPROVES MERGER PLANS
ON Wednesday. of last week, 525 members of Associated Road Operators assembled in London and passed unanimously the resolution & in favour of tire amalgamation of the road-transport associations without a question being asked and within 10 minutes of the start of the meeting.
It is stressed that this satisfactory result is undoubtedly due to the full explanation and discussion of the proposals which have taken place in all areas of the organization, so that no possible point of difference remained outstanding at the final meeting. It may also be ascribed to the months of patient negotiation leading to the settlement of all remaining difficulties.
COUNTRY SHOULD DEMAND "HANDS OFF INDUSTRY" " COR runs up to 100-150 miles, road transport has it," -said Mr. W. G. Graham, of Morris-Commercial Cars, Ltd., in a speech at the Oxford Chamber of Trade, on Monday last. " Road transport alone," said Mr. Graham, " can 'guarantee sameday delivery and door-to-door transit without trans-shipment, whilst there was less chance of loss or damage, without need for elaborate packing."
Dealing with the future of road transport, Mr. Graham said it was bright if taxation be lea crippling. He quoted figures to show how much more
heavily the commercial, vehicle is taxed
• in this country as compared with the United States. A 15-cwt. goods vehicle, for instance, covering a normal mileage, pays 250 4s. a year in this country and 'only £19 6s. in New York State. A 3-tonner is taxed at £79 2s. here, as against £32 14s. in the States.
Dealing with ;the subject of nationalization of road transport. Mr. Graham said that it would be a wrong policy. He believed that free private enterprise would be the only way to restore real prosperity to the country, both in the home ,and export markets. " What," he asked, "could nationalization offer in preference to private enterprise? Could it give more employ ment, more efficiency, greater economies, or even more courtesy?" He was firmly convinced that the answer in every case was " No."
At the conclusion of his address Mr. Graham said that Hands off industry, should be the country's demand in its own interests."
B.E.T. INTERIM DIVIDENDS
THE British Electric Traction Co., Ltd., has declared the following interim dividends on account of the financial year ending March 31, 1945:6 per cent. cumulative participating preference stock-3 ,per cent, actual, less tax; 8 per cent, non-cumulative preferred ordinary stock—.4 per cent. actual, less tax; deferred ordinary stock-15 per cent, actual, less tax.
ROAD TRANSPORT V. COST OF LIVING
AN executive of Vauxhall Motors, Ltd., addressing the Newcastle Rotary Club, stated that the cost of buying and operating road transport has a far-reaching effect upon the economics of our daily dife. If it be cheap, the cost of living will be less expensive. The things we buy in the course of trade will not be so expensive. We shall be able td sell at a reduced figure and deliver at less cost.
It can be said. that the trade of any country is 'as efficient as' is the transport available to it. A system which is artificially costly can never be developed to its fullest efficiency as a tool of industry.
The motor industry will continue to make progress, as it did before the war despite terrific taxation and restrictive legislation, because the Nation must. have road transport; it is no longer a luxury—an indulgence which can he curtailed by punitive taxation—but when will those in authority realize this?
As regards the returns from the sale of British motor vehicles overseas, these would more than compensate for a considerable reduction in taxation here.
FACILITIES IN CONNECTION WITH FUEL STORAGE
Ti' restrictions on the use of bulksitLge facilities, imposed in 1940 as a necessary precaution for defence, have been removed, and operators may not only use these facilities but may purchase, coupon-free, an initial delivery of 300 gallons of liquid fuel.
Some, however, of those in the defence areas cannot take advantage of this relaxation because their installations have, been either damaged or destroyed in some way. The M.O.W.T. has, therefore, been asked if arrangements can be made for the issue of the necessary permits to enable such operators to restore their installations.
The S.J.C. has also made an approach to the Petroleum Board with a view to arrangements being made which will enable operators whose installations have been destroyed to continue buying in bulk. As a result. each case will be dealt with on its merits, and operators should communicate with the appropriate Regional Office of the Petroleum Board.
USEFUL BOOK ON HEALTH IN INDUSTRY
ALL well-organized industries are interested in the health of their personnel, and the motor industry is no exception. Its members should therefore be glad to learn of the publication (at 2s. net) by the Automatic Telephone and Electric Co., Ltd., Strowger Works, Liverpool, 7, of a 52-page booklet entitled " Healthy Industry." The Order concerning paper prohibits the company from distributing it free.
This booklet was written by 'the ,medical adviser of the company at the request of the managing director. and it describes a method which has been proved to make a valuable contribution to sound industrial management. OBJECTIONS TO GLASGOW'S HIGHER FARES PLAN 'THERE is a prospect that the 1. N1.0,W.T. will order a public inquiry into the proposals of Glasgow Corporation for increasing the fares on the municipal buses and trams. This was indicated at a meeting of the corporation last week, when a discussien took place on a minute of the transport committee reporting the receipt of a request from the Ministry for the corporation's observations on certain representations which have been lodged against the proposed new scale of fares. Objections to the scheme, it was indicated, have been submitted by the local authorities of the boroughs of Barrhead and Rutherglen.
The committee decided to leave to the convener and sub-convener, along with the town clerk and the transport manager, the submission of the corporation's observations.
GETTING THE BEST FROM THE TRACTOR PLOUGH
THE object of a leaflet recently issued by the Ministry of Agriculture in connection with the care and maintenance of farm machinery is to show the operator how to get the best out of his tractor plough. It indicates not only the less well known, but also the more obvious features which must be just right to ensure good work, long life and light draught.
ANOTHER AGREEMENT ON MUNICIPAL RATES WiE are advised that a rates agreeVV ment has beennegotiated by A.R.O. with the Gateshead County Borough and the following are the figures agreed :— Tonnage Capacity Weekly Hire Deny Hire el Vehicle. per Hoer. per Hour.
B.R.F. TO STUDY MANCHESTER'S TRAFFIC PROBLEMS
THEB.R.F. is sending an official to Manchester on November 13 to study for a week road-traffic problems of the city and outlying districts. One purpose will be to contact informed opinion throughout the city as to its attitude towards the County Surveyors' Society's scheme for the construction of 1,000 miles of motorways.
LORRY DRIVER FINED £56
ALONG-DISTANCE lorry driver who pleaded guilty to stealing a case of tea, the property of the Ministry of Food, was fined 236 at Bradforo, last week. The driver, who sold the ease in Bradford, while en route from Liverpool to Halifax with a load of tea, was stated to have told the police that it was'an extra one which was put on to his lorry by mistake at Liverpool docks.
The stipendiary magistrate, Dr. F. J. O. Coddington, said that he usually sent a man to prison for such an offence, but it was possibly true that the extra case was put on the lorry by mistake, and that temptation arose in that way.. STABILIZING RATES COULD BE HARMFUL
IN an address which he gave, last 1 week, to the Stockport Rotary Club, . Mr E. F. Topharn, a Manchester haulier, said that traders must witch very carefully plans for stabilization of transport rates, which could have the effect of destroying the incentive that was created by healthy competition. He contended that the small planners were the most successful because they made a careful study of the special requirements of the customers, Transport charges could account for the difference between a sale and no sale of goods for export. Occasionally one heard talk about deficiencies in transport, hut the replanners never stated 'categorically where transport had failed. He was of the opinion that personal service and quick delivery must be the weapons of road-transport contractors in holding traffic against the railways.
FORMATION OF MOTOR CORRESPONDENTS' CIRCLE
JOURNALISTS writing on motoring matters for the lay Press have formed themselves into a group to be known as the "Motoring Correspondents' Circle." This is for social and fellowship purposes. The chairman is Mr. Laurence H. Cade, and, for the moment, the headquarters are at the Press Club, London, E.C.4. Mr. Dudley Noble is acting as honorary secretary.*
,MR. W. H. GRAY DEPRECATES VEHICLE-WIDTH DELAY
ASTRONG appeal for an immediate ruling concerning the ultimate legal width of vehicles, particularly buses, was put forward recently by Mr. W. H. Gray, a director of M.C.W. Motor Bodies, Ltd., at a luncheon given by Maurice Vernon, Ltd., an advertising agency, to its clients and editorial members of toe Press, Mr. Gray pointed out that his company had fulfilled more orders during the war for bodies to be delivered overseas than had any other bodybuilder. These were required to be 8 ft. in width, whilst other buses, originally built for overseas and of this width, were running in this country without any apparent difficulty or inconvenience; yet they afforded much greater comfort to passengers and, incidentally, to conductors.
I. OF T. COMMEMORATES ITS 25TH ANNIVERSARY
THE 25th anniversary of the Institute of Transport is being commemorated by a luncheon held to-day, for it was on November 3, 1919, that Lord Aslifield summoned what proved to be the first official gathering of the new Institute when it was resolved that it should be formed. Sir Eric Geddes, then head of the newly formed Ministry of Transport, agreed to become the first President.
Mr. D. R. Lamb, a member, has, at the request of-the Council. written an interesting paper regarding the Institute, its beginning and achievements. Incidentally, this bears witness to the
A2.
power of the Technical Press not, only in arousing interest in a worth-while object but also in setting it in motion, for it was the result of the publication in our contemporary "Modern Transport " of a series of letters advocating such an institute, that the first meeting was held on August 7, 1919. At this, a provisional committee charged with the preparation of the constitution was appointed, Sir Herbert Blain being secured as honorary secretary. Later he was followed by a full-time secretary, Mr. A. Winter Gray, 0.B.E., who has since retired. The membership, which 25 years ago stood at 440, has now reached 5,800. It embraces most of the leading authorities in transport throughout the British Empire and wherever British-owned transport is operated.
N.F.U. AND MILK-TRANSPORT CHARGES ILK-TRANSPORT charges were /V/ discussed, last week, by the Beeston branch of the National Farmers' Union. At present the producer of milk has to bear a transport deduction of Id, per gallon if milk be consigned to a depot or other collecting centre, whereas " direct" milk consigned to a distributor carries a transport charge of only d. per gallon. The meeting voted in favour of the principle of a standard rate which would average ld, per gallon all round.
DEATH OF CAPT. N. C. HARDIE
WE regret to announce the death in WV action. at Arnhem on the Western Front, of Capt. N. G. Hardie, who was, in 1939, a member of the London sales staff of the Associated Equipment Co., Ltd. He was a nephew of the late Mr.' Norman A. Hardie, formerly general manager (sales) of the company, whose death in December, 1937, took, froin the passenger side of the industry particularly, one of its most outstanding personalities.
Capt. N. G. Hardie joined A.E.C. in 1933. He spent the intervening years until 1939 passing through different' sections of the company's organization, where he acquired the knowledge and experience that fitted him for the Outside post to which he was appointbd in the latter year, CLEARING HOUSES CONFERENCE ISSUES BULLETIN
A NEW monthly news bulletin is .1-3. being circulated to all members of the National Conference of Road Transport Clearing Houses. In the first issue an appeal is made for greater efforts • towards enrolling new members, particularly in connection with the Hauliers' Section. There are three grades of membership--clearing house, haulier, and combined member. The last can belong to both sections of the Conference, and is eligible for appointment to the Council by either.
The animal general meeting of the Conference will be held at the Connaught Rooms at 2.30 p.m. on November 22. This will be the first meeting under the new constitution, and haulier members will be present.
WOMEN'S TRAFFIC CLUB DISCUSSES MANY PROBLEMS
AT a meeting of the Women's Traffic Club of Great Britain, held on October 25, a vigorous discussion took place on many subjects, such as the rival merits of ' different vehicles, transferring a road vehicle from a C to an A licence, hiring from the Air Ministry, the value or otherwiee of clearing houses and the human aspect of the " closed shop " policy in road
transport. • MUNICIPAL TAXI SERVICE AT GATESHEAD
GATE SHEA D Corporation has instructed the transport department to operate a taxi service for urgent corporation business. Hitherto the service has been operated by the A.R.P. department, but with the cut iii A.R.P. personnel the service will be carried on by the transport department. The service will be used mainly when other public means for transport are not available.
WHO SHOULD EVENTUALLY BE REINSTATED?
A N interesting case for the reinstatetlsment of an ex-Service man in .a previously held position was heard recently by a Tribunal. The man concerned was a driver who had taken the place of a former employee who had joined the Services and become a prisoner of war. The former was, in turn, called up, but was recently discharged. He then applied for his old job.
The employer took the view that the man entitled to be reinstated was the first who had left and who was now a prisoner. The Tribunal, however, said that as there was only one applicant forrn reinstatement, he should be employed at the scheduled rate of wages.
It will be interesting to observe what happens when the first Service man returns. If he claims reinstatement, and unless there be a second similar job available, it would appear that be will either have to replace the second .ex-Service man or . find another position. • There will probably be many cases of this kind, 'and eventually it will be necessary to make some legal ruling on this matter.. _ .
HEAD-LAMP DAZZLE PROBLEM BEING TACKLED
1N answer to a question by Sir R. Glyn, in the House of Commons, last week, in connection with dazzling head lights, Mr. P. J. Noel-Baker, Parlia, mentary Secretary, MO,W.T., sail that he would continue to investigate ail aspects of the problem, It was hishope that advances in head-lamp construction may make it possible, after the war, to provide a standard which will permit a good driving light relatively free from
• dazzle.
PAPER ON ENGINE LUBRICATION QN November 9, at 2.30 p.m., at Alliance Hall, Westminster, Louden, S.W.1, a meeting of the Diesel Engine Users' Association will be held, when a • paper will be presented for discussion on " Some Factors Affecting Internal-combustion Engine Lubrication," by Mr. Cecil C. Higgens.
THE EFFICIENT USE OF FUEL
A BOOK of considerable value, par
ticularly in view of the need for conserving all classes of fuel, is published by H.M. Stationery Office, at 12s. 6d. net, or 13s including postage.
It is entitled " The Efficient Use of Fuel," and has 807 pages with 303 illustrations. It is said to be equally suitable for students and the busy man in the works.
ROOTES STAGE V.1 EXHIBITION
LAST Tuesday there was opened at the showrooms of Rootes, Ltd., Devonshire House, London, W.I. "The V,1 Exhibition." Sponsored by General Sir Frederick Pile, C.-in-C., A.A. Command, it was organized by the R.A.F., A.A. Units and the Royal Observer Corps. Until and including 'November 14, the Exhibition will be open free to the public from 10 a.m. to 5 p.m. on weekdays, and 2 p.m. to 5 p.m. on Sundays.
R.T.C.'s TRIBUTE TO DRIVERS
THAT most road accidents' were due to pedestrians was the opinion expressed by Sir John Maxwell, Northern Regional Transport Commissioner, when awarding safe-driving medals to drivers employed in the telephone department of the post office at Newcastle-on-Tyne.
Sir John said that it should, be made compulsory for pedestrians to use the official road crossings, :whilst children should also be taught much-needed road sense. He added that young cyclists should not be allowed on the roads alone. He expressed the opinion that seven out of every eight road accidents were due to the injured persons themselves, which, he thought, spoke volumes for drivers.
Tags
Organisations
:
Air Ministry
,
H.M. Stationery Office
,
Ministry of Food
,
Diesel Engine Users' Association
,
Institute of Transport
,
Associated Road Operators
,
of-the Council
,
County Surveyors' Society
,
Regional Office
,
Royal Observer Corps
,
National Farmers' Union
,
Rotary Club
,
A.A. Command
,
Petroleum Board
,
Ministry of Agriculture
,
Press Club
,
House of Commons
,
Women's Traffic Club
,
Ministry of Transport
People
:
W. H. GRAY DEPRECATES
,
E. F. Topharn
,
N. G. Hardie
,
P. J. Noel-Baker
,
A. Winter
,
W. G. Graham
,
W. H. Gray
,
Dudley Noble
,
D. R. Lamb
,
N. C. HARDIE
,
John Maxwell
,
Laurence H. Cade
,
Frederick Pile
,
Herbert Blain
,
Parlia
,
R. Glyn
,
Eric Geddes
,
Cecil C. Higgens
,
Norman A. Hardie
,
N. C. HARDIE WE
,
A. Winter Gray