Passing Comments
3rd November 1944
Page 20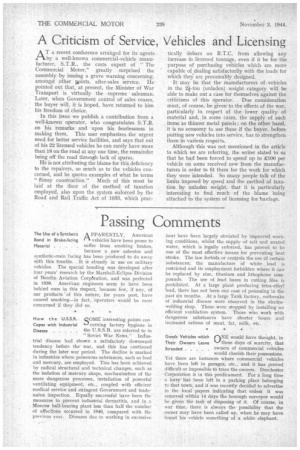 Page 21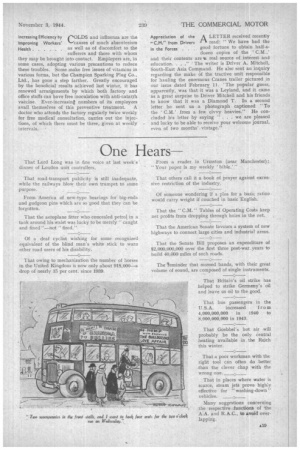 Page 20, 3rd November 1944 —
Passing Comments
Close
The Use of a Synthetic A PPARENTLY, American
Bond in Brake-facing vehicle have been prone to Material suffer from smoking brakes, because a new asbestos and synthetic-resin facing has been produced to do away with this trouble. It is already in use on military vehicles. The special bonding was developed after four years' research by the Marshall-Eclipse Division of Bendix Aviation Corporation. and was perfected in 1939. American engineers seem to have been behind ours in this respect, because few, if any, of our products ' of this nature, for years past, have caused smoking—in fact, :operators would be most concerned if they did so.
How the U.S.S.R OME' interesting points con•
Copes with Industrial cerning factory hygiene in Disease the U.S.S.R. are referred to in " Soviet War News." Industrial disease had shown a satisfactory downward tendency before the war, and this has continued during the later war period. The decline is marked in industries where poisonous substances, such as lead and mercury, are employed. This has been achieved by radical structural and technical changes, such as the isolation of mercury shops, mechanization of the more dangerous processes, installation of powerful ventilating equipment, etc., coupled with efficient medical service and stringent Government and tradeunion inspection. Equally successful have been the measures to prevent industrial dermatitis, and in a Moscow ball-bearing plant less than half the number of affections occurred in 1040, compared with the previous year. Diseases due to working in excessive heat have been largely obviated by improved working conditions, whilst the supply of salt and arated water, which is legally enforced, has proved to be one of the most effective means for preventing heat stroke. The law forbids or controls the use of certain substances; the manufacture of white lead is restricted and its employment forbidden where it can be replaced by zinc, titanium and lithophone compounds. The use of lead bases in cutting files is prohibited. At a large plant producing tetra-ethyl lead, there has not been one case of poisoning in the past six months. At a large Tank factory, outbreaks of industrial disease were observed in the electrowelding shop. These were stopped by installing an efficient ventilation system. Those who work with dangerous substances have shorter hours and increased rations of meat, fat, milk, etc.
Goods Veh ides which rINE would have thought, in Their Owners Leave %....,these days of scarcity, that
Stranded owners of commercial vehicles
would cherish their possessions. Yet there are instances where commercial vehicles have been left in garages, etc., and it has proved difficult or impossible to trace the owners. Dorchester Corporation is in this predicament. Ror a long time a lorry has been left in a parking place belonging to that town, and if was recently decided to advertise in the local papers indicating that unless it was removed within 14 days the borough surveyor would be given the task of disposing of it. Of course, in war time, there is always the possibility that the owner may have been called up, when he may have found his vehicle something of a white elephant. Increasing Efficiency by r OLDS and influenza are the Improving Workers' •-•causes of much absenteeism
Health as well as of discomfort to the sufferers and those with whom they may be brought into contact. Employers are, in some cases, adopting various precautions to reduce these troubles. Some make free issues of vitamins in various forms, but the Champion Sparking Plug Co., Ltd., has gone a step farther. Greatly encouraged by the beneficial results achieved last winter, it has renewed arrangements by which both factory and office staffs can have free inoculation with anti-catarrh vaccine. Ever-increasing numbers of its employees avail themselves of this preventive treatment. A doctor who attends the factory regularly twice weekly for free medical consultation, carries out the injections, of which there must be three, given at weekly intervals.
Appreciation of the A LETTER received recently " C.M." from Drivers I-1 read: " We have had the
in the Forces . . good fortune to obtain half-a dozen copies of the C.M..' and their contents are ma real source of interest and education. . . ." The writer is Driver A. Mitchell, South-East Asia Command. He also sent an inquiry regarding the make Of the tractive unit responsible for hauling the enormous Cranes trailer pictured in our issue dated February 11. 'The popular guess, apparently, was that it was a Leyland, and it came as a great surprise to Driver Mitchell and his friends to know that it was a Diamond T. In a second letter he sent us a photograph captioned "To the ' C.M.' from a few civvy heavies." He concluded his letter by saying " . . we are pleased and lucky to be able to receive your welcome journal, even of two months'. vintage."