KASSBO WINS AGAIN
3rd May 1986
Page 54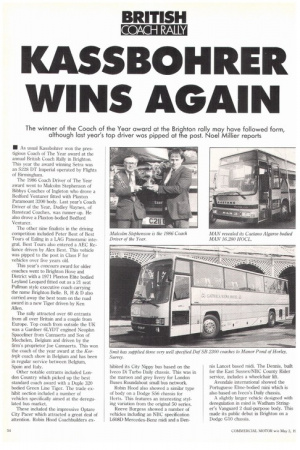 Page 55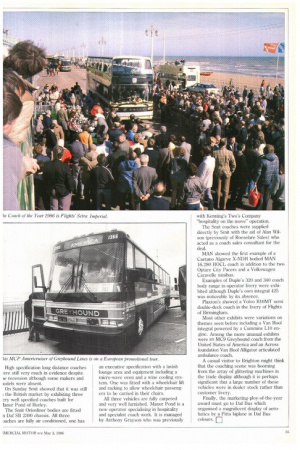 Page 54, 3rd May 1986 —
KASSBO WINS AGAIN
Close
The winner of the Coach of the Year award at the Brighton rally may have followed form, although last year's top driver was pipped at the post. Noel Millier reports
• As usual Kassbohrer won the prestigious Coach of The Year award at the annual British Coach Rally in Brighton. This year the award winning Setra was an S228 DT Imperial operated by Flights of Birmingham.
The 1986 Coach Driver of The Year award went to Malcolm Stephenson of Bibbys Coaches of Ingleton who drove a Bedford Venturer fitted with Plaxton Paramount 3200 body. Last year's Coach Driver of the Year, Dudley Haynes, of Banstead Coaches, was runner-up. He also drove a Plaxton-bodied Bedford Venturer.
The other nine finalists in the driving competition included Peter Best of Best Tours of Ealing in a LAG Panoramic integral, Best Tours also entered a AEC Reliance driven by Alex Best. This vehicle was pipped to the post in Class F for vehicles over five years old.
This year's concours award for older coaches went to Brighton Hove and District with a 1971 Plaxton Elite bodied Leyland Leopard fitted out as a 21 seat Pullman style executive coach carrying the name Brighton Belle. B, H & D also carried away the best team on the road award in a new Tiger driven by Ken Allen.
The rally attracted over 60 entrants from all over Britain and a couple from Europe. Top coach from outside the UK was a Gardner 6LYDT engined Neoplan Spaceliner from Cannaerts and Son of Mechelen, Belgium and driven by the firm's proprietor Joe Cannaerts. This won the coach of the year award at the Kortrijk coach show in Belgium and has been in regular service between Belgium, Spain and Italy.
Other notable entrants included London Country which picked up the best standard coach award with a Duple 320 bodied Green Line Tiger. The trade exhibit section included a number of vehicles specifically aimed at the deregulated bus market.
These included the impressive Optare City Pacer which attracted a great deal of attention. Robin Hood Coachbuilders ex hibited its City Nippy bus based on the Iveco Di Turbo Daily chassis. This was in the maroon and grey livery for London Buses Roundabout small bus network.
Robin Hood also showed a similar type of body on a Dodge S56 chassis for !kits. This features an interesting styling variation from the original 50 series.
Reeve Burgess showed a number of vehicles including an NBC specification L6081) Mercedes-Benz midi and a Den nis Lancet based midi. The Dennis, built for the East Sussex/NBC County Rider service, includes a wheelchair lift.
Avondale international showed the Portuguese Elme-bodied mini which is also based on Iveco's Daily chassis.
A slightly larger vehicle designed with deregulation in mind is Wadham Stringer's Vanguard 2 dual-purpose body. This made its public debut in Brighton on a Dodge G10 chassis. High specification long distance coaches ere still very much in evidence despite ie recession although some makers and rodels were absent.
On Sunday Smit showed that it was still the British market by exhibiting three ery well specified coaches built for lanor Pond of Horley.
The Smit Orionliner bodies are fitted n Daf SB 2300 chassis. All three Daches are fully air conditioned, one has an executive specification with a lavish lounge area and equipment including a micro-wave oven and a wine cooling system. One was fitted with a wheelchair lift and racking to allow wheelchair passengers to be carried in their chairs.
All three vehicles are fully carpeted and very well furnished. Manor Pond is a new operator specialising in hospitality and specialist coach work. It is managed by Anthony Grayson who was previously with Kenning's Two's Company "hospitality on the move" operation.
The Smit coaches were supplied directly by Smit with the aid of Alan Wilson (previously of Roeselare Sales) who acted as a coach sales consultant for the deal.
MAN showed the first example of a Caetano Algarve X-NDH bodied MAN 16.280 HOCL coach in addition to the two Optare City Pacers and a Volkswagen Caravelle minibus.
Examples of Duple's 320 and 340 coach body range in operator livery were exhibited although Duple's own integral 425 was noticeable by its absence.
Plaxton's showed a Volvo BlOMT semi double-deck coach in the livery of Flights of Birmingham.
Most other exhibits were variations on themes seen before including a Van Hool integral powered by a Cummins L10 engine. Among the more unusual exhibits were an MC9 Greyhound coach from the United States of America and an Across foundation Van Hool Alligator articulated ambulance coach.
A casual visitor to Brighton might think that the coaching scene was booming from the array of glittering machines in the trade display although it is perhaps significant that a large number of these vehicles were in dealer stock rather than customer livery.
Finally, the marketing-ploy-of-the-year award must go to Daf Bus which organised a magnificent display of aerobatics by a Pitts biplane in Daf Bus colours. n
Tags
People
:
Brighton Belle
,
Van Hool Alligator
,
Mechelen
,
Robin Hood Coachbuilders
,
Noel Millier
,
Alan Wilson
,
Joe Cannaerts
,
Anthony Grayson
,
Dudley Haynes
,
Malcolm Stephenson
,
Alex Best
,
Brighton Hove
,
Ken Allen
,
Bibbys Coaches
,
Peter Best