. . so do we, says FTA
3rd May 1986
Page 5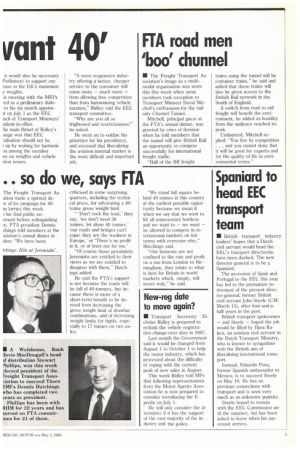 Page 5, 3rd May 1986 —
. . so do we, says FTA
Close
Keywords :
The Freight Transport Asation made a spirited de:e of its campaign for 40e lorries this week.
his final public en ement before relinquishing :e, FTA president Dennis chings told members at the iciation's annual dinner in idon: "We have been criticised in some surprising quarters, including the technical press, for advocating a 40tonne gross weight limit.
" 'Don't rock the boat,' they say, 'we don't need 38
tonnes, let alone 40 tonnes,' our roads and bridges can't cope; they are the weakest in Europe,' or 'There's no profit in it, or at least not for me.'
"Of course those pessimistic Jeremiahs are entitled to their views as we are entitled to disagree with them," Hutchings added.
He said the FTA's support is not because the roads will be full of 40-tonners, but because there is more of a short-term benefit to be derived from increasing the gross weight limit of drawbar combinations, and of increasing weight limits for rigids, especially to 17 tonnes on two axles. "We stand full square behind 40 tonnes in this country at the earliest possible opportunity because we mean it when we say that we want to lift all unnecessary burdens and we want to — we must — be allowed to compete in international markets on fair terms with everyone else," Hutchings said.
"Our horizons are not confined to the rate and profit on a run from London to Birmingham, they relate to what is best for Britain in world markets which, simply, will never wait." he said.