LR: What next?
3rd May 1986
Page 4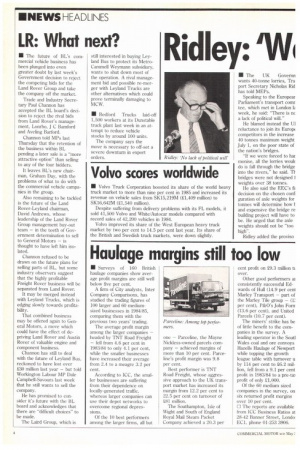 Page 4, 3rd May 1986 —
LR: What next?
Close
Keywords :
British Leyland
,
Rover
,
British Brands
,
Freight Rover
,
Land Rover Group
,
Rover Group
,
Leyland Bus
,
Rover Company
,
Land Rover
,
Leyland Trucks
,
Austin Motor Company
,
Leyland Motors
,
Business / Finance
• The future of BL's commercial vehicle business has been plunged into even greater doubt by last week's Government decision to reject the competing bids for the Land Rover Group and take the company off the market.
Trade and Industry Secretary Paul Channon has accepted the BL board's decision to reject the rival bids from Land Rover's management, Lonrho, J C Bamford and Aveling Barford.
Channon told MPs last Thursday that the retention of the business within BL pending a later sale is a "more attractive option" than selling to any of the four bidders.
It leaves BL's new chairman, Graham Day, with the problems of what to do with the commercial vehicle carnpanies in the group.
Also remaining to be tackled is the future of the Land Rover-Leyland chairman, David Andrews, whose leadership of the Land Rover Group management buy-out team — in the teeth of Government determination to sell to General Motors — is thought to have left him isolated.
Channon refused to be drawn on the future plans for selling parts of BL, but some industry observers suggest that the highly profitable Freight Rover business will be separated from Land Rover.
It may be merged instead with Leyland Trucks, which is edging slowly towards profitability.
That combined business may be offered again to General Motors, a move which could have the effect of depriving Land Rover and Austin Rover of valuable engine and component business.
Channon has still to deal with the future of Leyland Bus, reckoned to have lost over £30 million last year — but told Workington Labour MP Dale Campbell-Savours last week that he still wants to sell the company.
He has promised to consider it's future with the BL board and acknowledges that there are "difficult choices" to be made.
The Laird Group, which is still interested in buying Leyland Bus to protect its MetroCaramel] Weymann subsidiary, wants to shut down most of the operation. A rival management bid and possible re-merger with Leyland Trucks are other alternatives which could prove terminally damaging to MCW.