Haulage margins still too low
3rd May 1986
Page 4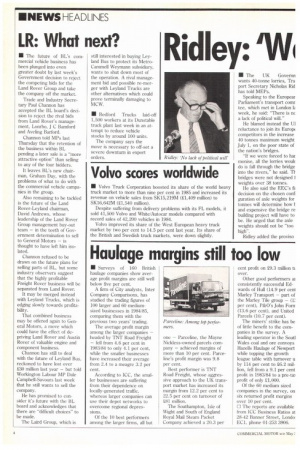 Page 4, 3rd May 1986 —
Haulage margins still too low
Close
• Surveys of 160 British haulage companies show average profit margins are still well below five per cent.
A firm of City analysts, Inter Company Comparisons, has studied the trading figures of 100 larger and 60 mediumsized businesses in 1984/85. comparing them with the previous two years' trading.
The average profit margin among the larger companies — headed by TNT Road Freight — fell from 4.6 per cent in 1983/84 to only 4.1 per cent, while the smaller businesses have increased their average from 2.4 to a meagre 3.2 per cent.
According to ICC, the smaller businesses are suffering from their dependence on locally-generated traffic, whereas larger companies can use their depot networks to overcome regional depressions.
Of the 10 best performers among the larger firms, all but one Parceline, the Mayne Nickless-owned parcels company — achieved margins of more than 10 per cent. Parceline's profit margin was 9.8 per cent.
Best performer is TNT Road Freight, whose aggressive approach to the UK transport market has increased its margin from 12.2 per cent to 22.5 per cent on turnover of 281 million.
The Southampton, Isle of Wight and South of England Royal Mail Steam Packet Company achieved a 20.3 per cent profit on 29.3 million tt over.
Other good performers at consistently successful Edwards of Hull (14.9 per cent Marley Transport — part of the Marley Tile group — (1; per cent), P&O's John Fom (13.6 per cent), and United Parcels (10.7 per cent).
The miners' strike has be of little benefit to the companies in the survey. A leading operator in the Soutl Wales coal and ore convoys Hazells Haulage of Newport while topping the growth league table with turnover u by 114 per cent to £6.2 million, fell from a 9.1 per cent profit in 1983/84 to a pre-tai profit of only £1,000.
Of the 60 medium sized companies in the survey, on six returned profit margins over 10 per cent.
The reports are available from ICC Business Ratios at 28-42 Banner Street, Londo. Ed, phone 01-253 3906.