BUSINESS
3rd May 1986
Page 26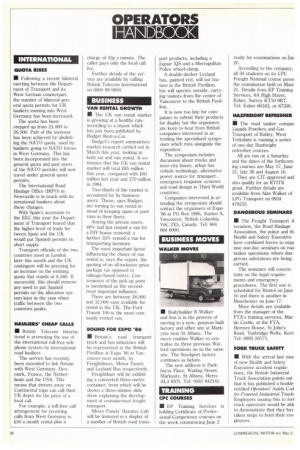 Page 26, 3rd May 1986 —
BUSINESS
Close
VAN RENTAL GROWTH • The UK van rental market is growing at a healthy rate according to a report which has just been published by Budget Rent-a-Car.
Budget's report summarises market research carried out in March this year, looking at both car and van rental. It estimates that the UK van rental market will total 285 million this year, compared with 280 million last year and 270 million in 1984.
Two-thirds of the market is accounted for by business users. These, says Budget, are turning to van rental instead of keeping spare or pool vans in their fleets.
Among the private users, 40% had last rented a van for a DIY house removal; a further 33% rented a van for transporting furniture.
The most important factor influencing the choice of van rental is, says the report, the quoting of an all-inclusive price package (as opposed to mileage-based rates). Convenience of the pick-up point is mentioned as the secondmost important influence.
There are between 28,000 and 32,000 vans available for rental in the UK. The Ford Transit 100 is the most commonly rented van.
BOUND FOR EXPO '86
RI Britain's road transport truck and bus industries will be represented at the British Pavillion at Expo '86 in Vancouver next month, by Freightliners, Motor Panels and Leyland Bus respectively.
Freightliner will be exhibiting a converted three-metre container, from which will be shown a three-minute slide show explaining the development of containerised freight transport.
Motor Panels' Hernitec Cab will be featured in a display of a number of British road trans port products, including a Jaguar XIS and a Metropolitan Police wheel-clamp.
A double-decker Leyland bus, painted red, will not feature in the British Pavillion, but will operate outside, carrying visitors from the centre of Vancouver to the British Pavillion.
It is now too late for companies to submit their products for display but the organisers are keen to hear from British companies interested in attending the specialised symposium which runs alongside the exposition.
The symposium includes discussion about trucks and inter-city buses, urban bus vehicle technology, alternative power source for transport, emergency response systems and road design in Third World countries.
Companies interested in attending the symposium should contact the organisers of Expo '86 at PO Box 1986, Station A, Vancouver, British Columbia, V6C 2X5, Canada. Tel: 604 668 6000.