ticiley opens Soton ransporter terminal
3rd May 1986
Page 17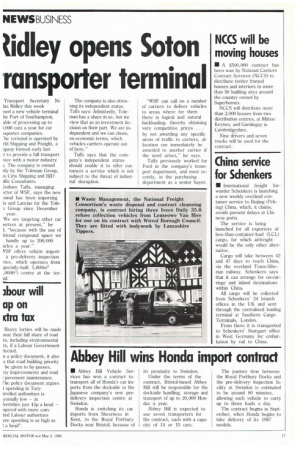 Page 17, 3rd May 1986 —
ticiley opens Soton ransporter terminal
Close
Transport Secretary Nilas Ridley this week Tied a new vehicle terminal he Port of Southampton, able of processing up to 1,000 cars a year for car isporter companies.
he terminal is operated by rid Shipping and Freight, a npany formed early last
r to provide a full transport vice with a motor industry ;. The company is owned itly by the Toleman Group,
Ciris Shipping and BJD iffic Consultants.
;raham Taffs, managing :ctor of WSF, says the new minal has been importing ts and Lancias for the Tolea Group since December , year.
We are targeting other car rorters at present," he I. "because with the use of [Monal compound space we handle up to 200,000 rides a year."
VSF offers vehicle importa pre-deliver}, inspection vice, which operates from 5,600m2 ,0001t2) centre at the ter The company is also stressing its independent status. Taffs says: Admittedly, Toleman has a share in us, but we view that as an investment decision on their part. We are independent and we can chose, on economic terms, which vehicles carriers operate out of here."
Taffs says that the company's independent status should enable it to offer customers a service which is not subject to the threat of industrial disruption.
"WSF can call on a number of carriers to deliver vehicles to areas where for them there is logical and natural backloading, thereby obtaining very competitive prices . . . by not awarding any specific areas of traffic to carriers, allocation can immediately be awarded to another carrier if the need arises," he says.
Taffs previously worked for Ford in the company's transport department, and most recently, in the purchasing department as a senior buyer.