Total tunnel talk
3rd May 1986
Page 16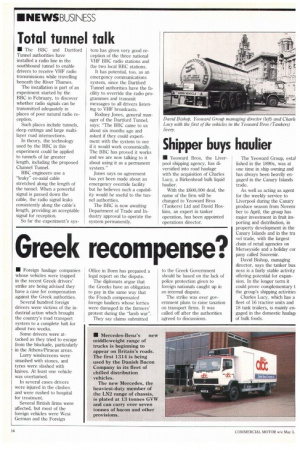 Page 16, 3rd May 1986 —
Total tunnel talk
Close
Keywords :
Counties Of England
,
Kent
,
Transport In Kent
,
United Kingdom
,
Channel Tunnel
,
Radio Spectrum
,
Dartford Crossing
,
Motoring Taxation In The United Kingdom
,
Tunnel
,
Bbc
,
Very High Frequency
• The BBC and Dartford Tunnel authorities have installed a radio line in the southbound tunnel to enable drivers to receive VHF radio transmissions while travelling beneath the River Thames.
The installation is part of an experiment started by the BBC in February, to discover whether radio signals can be transmitted adequately in places of poor natural radio reception.
Such places include tunnels, deep cuttings and large multilayer road intersections.
In theory, the technology used by the BBC in this experiment could be applied to tunnels of far greater length, including the proposed Channel Tunnel.
BBC engineers use a "leaky" co-axial cable stretched along the length of the tunnel. When a powerful signal is passed down the cable, the radio signal leaks consistently along the cable's length, providing an acceptable signal for reception.
So far the experiment's sys
tern has given very good reception of the three national VHF BBC radio stations and the two local BBC stations.
It has potential, too, as an emergency communications system, since the Dartford Tunnel authorities have the facility to override the radio programmes and transmit messages to all drivers listening to VHF broadcasts.
Rodney Jones, general manager of the Dartford Tunnel, says: "The BBC came to us about six months ago and asked if they could experiment with the system to see if it would work economically. The BBC has proved it works and we are now talking to it about using it as a permanent system."
Jones says no agreement has yet been made about an emergency override facility but he believes such a capability would be useful to the tunnel authorities.
The BBC is now awaiting Department of Trade and Industry approval to operate the system permanently.