DLA clears Penrith firm's 0-licence
3rd May 1986
Page 12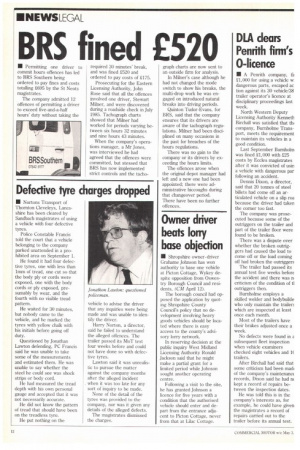 Page 12, 3rd May 1986 —
DLA clears Penrith firm's 0-licence
Close
• A Penrith company, fu ti LOGO for using a vehicle w dangerous parts, escaped ac tion against its 30 vehicle/38 trailer operator's licence at disciplinary proceedings last week.
North Western Deputy Licensing Authority Kenneth Birchall was satisfied that till company, Burnholme Transport, meets the requirement to maintain its vehicles in a good condition.
Last September Bornholm was fined 21,000 with 225 costs by Eccles magistrates after it was convicted of usin a vehicle with dangerous par following an accident.
Dennis Dixon, a director, said that 20 tonnes of steel billets had come off an articulated vehicle on a slip roa because the driver had taken the corner too fast.
The company was prosecuted because some of the outriggers on the trailer and part of the trailer floor were found to be broken.
There was a dispute over whether the broken outriggers had caused the load to come off or the load coming off had broken the outriggers The trailer had passed its annual test five weeks beforE the accident and there was n criticism of the condition of ti outriggers then.
Burnholme employs a skilled welder and bodybuilde who only maintain the trailer: which are inspected at least once each month.
Most of the trailers have their brakes adjusted once a week.
No defects were found in a subsequent fleet inspection when vehicle examiners checked eight vehicles and 1( trailers.
After Birchall had said that some criticism had been mach of the company's maintenanct records, Dixon said he had rm kept a record of repairs between the inspection dates.
He was told this is in the company's interests as, for example, he could have given the magistrates a record of repairs carried out to the trailer before its annual test.