Defective tyre charges dropped
3rd May 1986
Page 12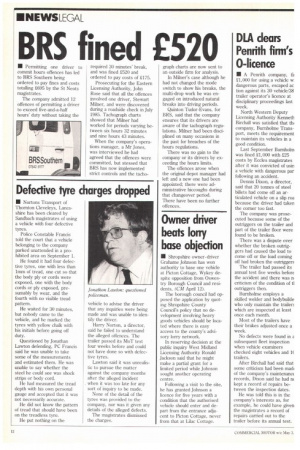 Page 12, 3rd May 1986 —
Defective tyre charges dropped
Close
• Nortons Transport of Thornton Cleveleys, Lancashire has been cleared by Sandbach magistrates of using a vehicle with four defective tyres.
Police Constable Francis told the court that a vehicle belonging to the company parked unattended in a prohibited area on September 1.
He found it had four defective tyres, one with less than lrnm of tread, one cut so that the body ply or cords were exposed, one with the body cords or ply exposed, presumably by wear, and the fourth with no visible tread pattern.
He waited for 30 minutes, but nobody came to the vehicle, and he marked the tyres with yellow chalk with his initials before going off duty.
Questioned by Jonathan Lawton defending, PC Francis said he was unable to take some of the measurements and estimated them. He was unable to say whether the steel he could see was shock strips or body cord.
He had measured the tread depth with his own personal gauge and accepted that it was not necessarily accurate.
He did not know the pattern of tread that should have been on the treadless tyre.
He put nothing on the vehicle to advise the driver that any inquiries were being made and was unable to identify the driver.
Harry Norton, a director, said he failed to understand the alleged offences. The trailer passed its MoT test four weeks before and could not have done so with defective tyres.
Lawton said it was unrealistic to pursue the matter against the company months after the alleged incident when it was too late for any sort of inquiry to be made.
None of the detail of the tyres was provided to the company, nor was it given any details of the alleged defects.
The magistrates dismissed the charges.