Commissioners Consider " Coercion " of Agents
3rd May 1935
Page 50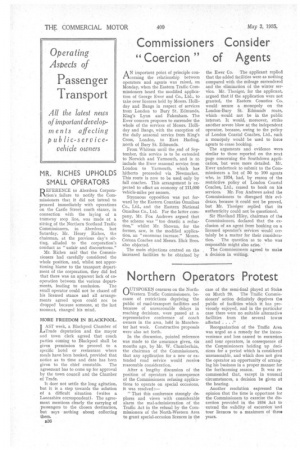 Page 50, 3rd May 1935 —
Commissioners Consider " Coercion " of Agents
Close
Keywords :
AN important point of principle concerning the relationship between operators and agents was raised, on Monday, when the Eastern Traffic Commissioners heard the modified application of George Ewer and Co., Ltd., to take over licences held by Messrs. Holliday and Bangs in respect of services from London to Bury St. Edmunds, King's Lynn and Fakenham. The Ewer concern proposes to surrender the whole of the services of Messrs. Holliday and Bangs, with the exception of the daily seasonal service from King's Cross, London, to East Harling, north of Bury St. Edmunds. From Whitsun until the end of September, this service is to be extended to Norwich and Yarmouth, and is. to include the Ewer seasonal service from London to Yarmouth, which has hitherto proceeded via Newmarket. This route is now to be used only by full coaches. This arrangement is expected to effect an economy of 111,000 vehicle-miles per annum. Strenuous opposition was put forward by the Eastern Counties Omnibus Co., Ltd., and the Eastern National Omnibus Co., Ltd. For the latter company, Mr. Fox Andrews argued that the scheme was "too drastic a reduction," whilst Mr. Showan, for the former, saw, in the modified application, an "enormous increase." Messrs. Corona Coaches and Messrs. Hick Bros. also objected.
The main objections centred on the increased facilities to be obtained by
the Ewer Co. The applicant replied that the added facilities were as nothing compared with the mileage surrendered and the elimination of the winter service. Mr. Thesiger, for the applicant, argued that if the application were not granted, the Eastern Counties Co. would secure a . monopoly on the London-Bury St. Edmunds route, which. would not be in the public interest. It would, moreover, strike another severe blow at the independent operator, because, owing to the policy of London Coastal Coaches, Ltd., such a monopoly would be used to force agents to cease booking. The arguments and evidence were similar to those reported on the next page concerning the Southdown application, but were more detailed. Mr. Ewer undertook to submit to the Commissioners a list of 50 to 100 agents who, in 1934, had, by reason of the restrictive policy of London Coastal Coaches, Ltd., ceased to book on his services. Mr. For Andrews asked the Commissioners to disregard this evidence, because it could not be proved, but Mr. Thesiger replied that its authenticity could not be questioned. Sir Haviland Hiley, chairman of the Commissioners, declared that the exclusion of an agent from booking on a licensed operator's services would certainly be a matter for their consideration. The question as to who was responsible might also arise. The Commissioners agreed to make a decision in writing.