A New Dodge 30 m.p.h. 4-tonner
3rd May 1935
Page 35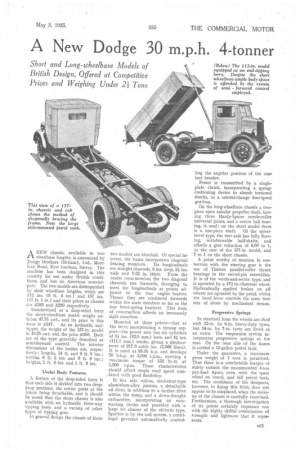 Page 35, 3rd May 1935 —
A New Dodge 30 m.p.h. 4-tonner
Close
ANEW chassis, available in two wheelbase lengths, is announced by Dodge Brothers (Britain), Ltd., Mortlake Road, Kew Gardens, Surrey. The machine has been designed in this country for use under British conditions, and has no American counterpart. The two models are distinguished by their wheelbase lengths, which are 112 ins. (9 ft. 4 ins.) and 157 ins. (13 ft. 1 in.) and their prices as chassis are £285 and £290 respectively.
Standardized as a drop-sided lorry the short-wheelbase model weighs unladen 47.75 cwt., and its• price in this form is £347. As an hydraulic endtipper, the weight of the 157-in, model is 48.25 cwt. and the price £368. Both arc of the type generally described as semi-forward control. The interior dimensions of the bodies are, respectively: lengths, 14 ft. and 8 ft. 8 ins,; widths, 6 ft. 3 ins. and 6 ft. 6 ins. ; heights, 1 ft. 6 ins. and 1 ft. 9 ins.
Useful Body Features.
A feature of the drop-sided lorry is that each side is divided into two dropping portions, the centre posts at the joints being detachable, and it should be noted that the short chassis is also available with an hydraulic three-way tipping body and a variety of other types of tipping gear. In general design the chassis of these two models are identical. Of special interest, the frame incorporates diagonal bracing members. Its longitudinals are straight channels, 8 ins. deep, 2i ins. wide and 7-32 in. thick. From the centre cross-member, the two diagonal channels run forwards, diverging to meet the longitudinals at points adjacent to the rear engine bearers. Thence they are continued forwards within the main members so far as the rear front-spring brackets. This form of construction affords an immensely rigid structure.
Mounted at three points—that at the front incorporating a sprung support—the power unit has six cylinders of 31 ins. (82.5 mm.) bore, and 41 ins. (111.1 mm.) stroke, giving a displacement of 217.8 cubic ins. (3.569 litres). It is rated at 25.35 h.p. and develops 70 b.h.p. at 3,000 r.p.rn., exerting a maximum torque of 152 lb.-ft. at 1,200 np.m. These characteristics should afford ample road speed corn, bined with good flexibility.
It has side valves, steel-strut-type aluminium-alloy pistons, a detachable oil filter, in addition to a further filter within the sump, and a down-draught carburetter, incorporating an easystarting device and provided with a large air cleaner of the oil-bath type. Ignition is by the coil system, a centrifugal governor automatically control ling the angular position of the contact breaker.
Power is transmitted by a singleplate clutch, incorporating a springcushioning device to absorb torsional shocks, to a. central-change four-speed gearbox.
On the long-wheelbase chassis a twopiece open tubular propeller shaft, having three Hardy-Spicer needle-roller universal joints, and a centre ball bearing, is used ; on the short model there
is a one-piece shaft. Of the spiralbevel type, the rear axle has fully floating, withdrawable half-shafts, and affords a gear reduction of 6.66 to 1, in the case of the 157-in, model, and ' 7 to 1 on the short chassis.
A point worthy of mention in connection with the steering gear is the use of Timken parallel-roller thrust bearings in the swivel-pin assemblies. It is of the worm-and-sector type, and is operated by a 171-in.-diameter wheel. Hydraulically applied brakes on all wheels are operated by the pedal, whilst the hand lever controls the same four sets of shoes by mechanical means.
Progressive Springs.
In standard form the wheels are shod with 32-in. by 6-in, heavy-duty tyres, but 34-in. by 7-in. tyres are listed as an extra. The suspension system incorporates progressive springs at the rear. On the near side of the frame is carried a 15-gallon petrol tank.
Under the guarantee, a maximum gross weight of 7 tons is permitted. Thus there is-a comfortable margin of safety outside the recommended 4-ton pay-load figure, even with the spare wheel on board, and full petrol tank, etc. The confidence of the designers, however, in fixing this limit, does not appear to be misplaced, when the makeup of the chassis is carefully examined. Furthermore, a thorough investigation of its points certainly impresses one with the highly skilful combination of strength and lightness that it repro• seats.