A Guide to the Tax on Oilers
3rd May 1935
Page 34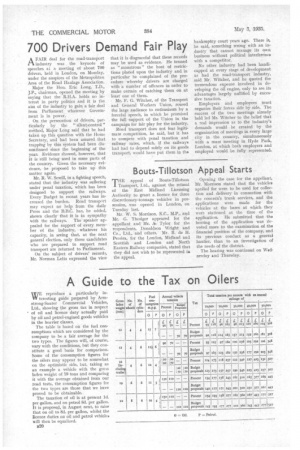 Page 34, 3rd May 1935 —
A Guide to the Tax on Oilers
Close
'WE reproduce a particularly inVT teresting guide prepared by Armstrong-Saurer Commercial Vehicles, Ltd., showing the gross tax in respect of oil and licence duty actually paid by oil and petrol-eugiued goods vehicles in the heavier classes.
The table is based on the fuel consumptions which are considered by the company to be a fair average for the two types. The figures will, of course, vary with the conditions, bnt they constitute a; good basis for comparison. Some of the consumption figures for the oilers may appear to be somewhat on the optimistic side, but, taking as an example a vehicle with the gross laden weight of 19 tons and comparing it with the average obtained from our road tests, the consumption figures for the two types are those that we have proved to be obtainable.
The taxation of oil is at present id. per gallon, and on petrol 8d. per gallon. It is proposed, in August next, to raise that on oil to 8d. per gallon, whilst the licence duties on oil and petrol vehicle will then be equalized.
1320