Railway Sleuths' Impertinence
3rd May 1935
Page 27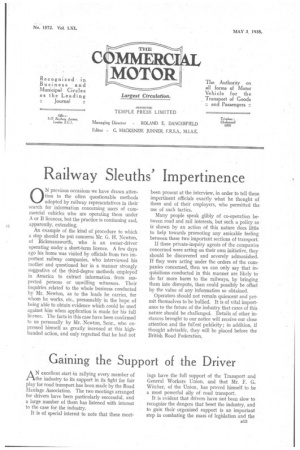 Page 27, 3rd May 1935 —
Railway Sleuths' Impertinence
Close
Keywords :
0 N previous occasions we have drawn attention to the often questionable methods adopted by railway representatives in their search for information concerning users of commercial vehicles who are operating them under A or B licences, but the practice is continuing and, apparently, extending.
An example of the kind of procedure to which a stop should be put concerns Mr. G. H. Newton, of Rickmansworth, who is an owner-driver operating under a short-term licence. A few days ago his home was visited by officials from two important railway companies, who interviewed his mother and questioned her in a manner strongly suggestive of the third-degree methods employed in America to extract information. from suspected persons or unwilling witnesses. Their inquiries related to the whole business conducted by Mr. Newton, as to the loads he carries, for whom he works, etc., presumably in the hope of• being able to obtain evidence which could be used against him when application is made for his full licence. The facts in this case have been confirmed to us personally by Mr. Newton, Senr., who expressed himself as greatly incensed at this highhanded action, and only regretted that he had not been present at the interview, in order to tell these impertinent officials exactly what he thought of them and of their employers, who permitted the use of such tactics.
Many people speak glibly of co-operation between road and rail interests, but such a policy as is shown by an action of this nature does little to help towards promoting any amicable feeling between these two important sections of transport.
If these private-inquiry agents of the companies concerned were acting on their own initiative, they should be discovered and severely admonished. If they were acting under the orders of the companies concerned, then we can only say that inquisitions .conducted in this manner are likely to do far more harm to the railways, by bringing them into disrepute, than could possibly be offset by the value of any information so obtained.
Operators should not remain quiescent and permit themselves to be bullied. It is of vital importance to the future of the industry that cases of this nature should be challenged. Details of other instances brought to our notice will receive our close attention and the furest publicity ; in addition, if thought advisable, they will be placed before the British Road Federation.