MAKERS' and USERS' EWS on OIL ENGINES T HE compression-ignition oil
3rd May 1932
Page 94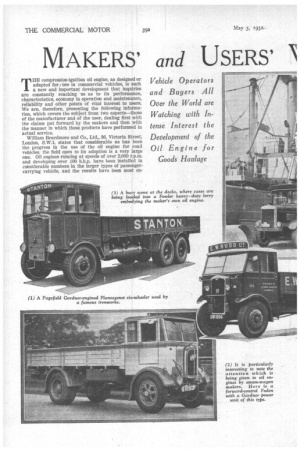 Page 95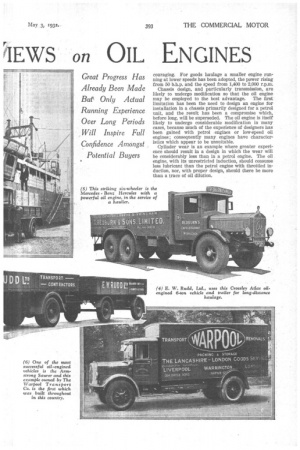 Page 96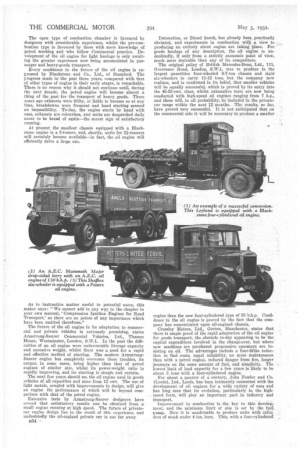 Page 97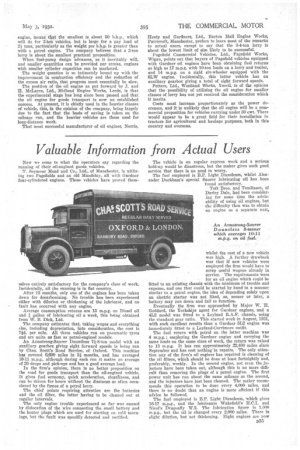 Page 94, 3rd May 1932 —
MAKERS' and USERS' EWS on OIL ENGINES T HE compression-ignition oil
Close
engine, as designed or adapted for i use in commercial vehicles, is such a new and important development that inquiries are constantly reaching us as to its performance, characteristics, economy in operation and maintenance, reliability and other points of vital interest to users. We are, therefore, presenting the following information, which covers the subject from two aspects—those of the manufacturer and of the user, dealing first with the claims put forward by the makers and then with the manner in which these products have performed in actual service.
William Beardmore and Co., Ltd., 36, Victoria Street, London, S.W.1, states that considerable as has been the progress in the use of the oil engine for road vehicles, the field open to its adoption is a very large one. Oil engines running at speeds of over 2,000 r.p.m. and developing over 100 b.h.p. have been installed in considerable numbers in the larger types of passengercarrying vehicle, and the results have been most en couraging. For goads haulage a smaller engine running at lower speeds has been adopted, the power rising from 50 b.h.p. and the speed from 1,400 to 2000, r.p.m.
Chassis design, and particularly transmission, are likely to undergo modification so that the oil engine may be employed to the best advantage. The first limitation has been the need to design an engine for installation in a chassis primarily designed for a petrol unit, and the result has been a compromise which, before long, will be superseded. The oil engine is itself likely to undergo considerable modification in many cases, because much of the experience of designers has been gained with petrol engines or low-speed oil engines ; consequently many engines have characteristics which appear to be unsuitable.
Cylinder wear is an example where greater experience should result in a design in which the wear will be considerably less than in a petrol engine. The oil engine, with its unrestricted induction, should consume less lubricant than the petrol engine with throttled induction, nor, with proper design, should there be more than a trace of oil dilution.
The open type of combustion chamber is favoured by designers with considerable experience, whilst the pre-combustion type is favoured by those with more knowledge of petrol working and who follow Continental practice. Development of the oil engine for light haulage is only awaiting the greater experience now being accumulated in passenger and heavy-goods transport.
Every confidence in the future of the oil engine is expressed by Blackstone and Co., Ltd., of Stamford. The crogress made in the Past three years, compared with that of other types of engine in their early stages, is remarkable. There is no reason why it should not continue until, during the next decade, the petrol engine will become almost a thing of the past for the transport of heavy goods. Three years ago exhausts were filthy, or liable to become so at any time, breakdowns were frequent and hand starting seemed an impossibility. To-day, the engine starts by hand with ease, exhausts are colourless, and units are despatched daily never to be head of again—the surest sign of satisfactory running.
At present the smallest chassis equipped with a Blackstone engine is a 3-tonner, and, shortly, units for 21-tonners will certainly become available—in fact, the oil engine will efficiently drive a large car.
Detonation, or Diesel knock, has already been., practically obviated, and experiments in combustion with a view to producing an entirely silent engine are taking place. For goods haulage of any description, the oil engine is undoubtedly, if only from a strictly enonomie point of view, much more desirable than any of its competitors.
The original policy of British Mercedes-Benz, Ltd., 111, Grosvenor Road, London, S.W.1, was to produce in the largest quantities four-wheeled 6-7-ton chassis and rigid six-wheelers to carry 11-12 tons, but the company now realizes, and is confirmed in its belief, that smaller vehicles will be equally successful, which is proved by its entry into the 45-55-ewt. class, whilst exhaustive tests are now being conducted with high-speed oil engines ranging from 7 h.p., and these will, in all probability, be included in the privatecar range within the next 12 months. The results, so far, have proved very successful. It is not anticipated that on the commercial side it will be necessary to produce a smaller engine, meats that the smallest is about 50 b.h.p., which will do for 3-ton vehicles, but is large for a pay load of 2i tons, particularly as the weight per b.h.p is greater than with a petrol engine. The company believes that a 3-ton lorry is about the smallest practical proposition. When 'fuel-pump design advances, as it inevitably will, and smaller quantities can be provided per stroke, engines with smaller cylinder capacities can be marketed.
The weight question is so intimately bound up with the improvement in combustion efficiency and the reduction of the excess air ratio, that progress must essentially be slow.
The position of the oil engine as put forward by J. and H. McLaren, Ltd., Midland Engine Works, Leeds, is that the experimental stage has long since been passed and that the oil engine for goods transport is now an established success. At present, it is chiefly used in the heavier classes of vehicle, this, in the opinion of the company, being largely due to the fact that the basis of saving is taken on the mileage run, and the heavier vehicles are those used for long-distance work.
That most successful manufacturer of oil engines, Norris, Heuty and Gardners, Ltd" Barton Hall Engine Works, Patricroft, Manchester, prefers to leave most of the remarks to actual users, except to say that the 3-4-ton lorry is about the lowest limit of size likely to be successful.
Pagefield Commercial Vehicles, Ltd., Pageteld Works, Wigan, points out that buyers of Pagefield vehicles equipped with Gardner oil engines have been obtaining fuel returns as high as 17 m.p.g. with 10-ton loads on a lorry and trailer, and 14 m.p.g. an a rigid six-wheeler equipped with the 6LW engine. Incidentally, this latter vehicle has an auxiliary gearbox giving a total of eight forward speeds.
Petters, Ltd., Westland Works, Yeovil. is of tbm opinion that the possibility of utilizing the oil engine for smaller classes of lorry has not yet received the consideration which it merits.
Costs must increase proportionately ae the power decreases, and it is unlikely that the oil engine will be a commercial proposition for vehicles carrying under 30 cwt. There would appear to be a great field for their installation in tractors for agricultural and haulage purposes, both in this country and overseas.